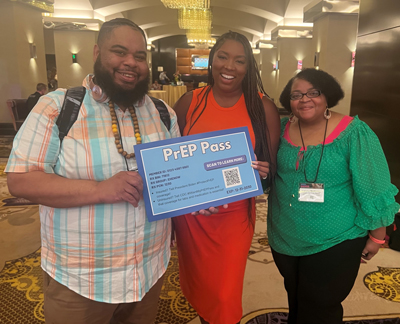 PrEP4All will hold a series of high-level consultations that will advance a strategic conversation on the costs, benefits, and best practices for a National PrEP Program for un- and under-insured individuals in America. The organization will convene key experts and thought leaders to capture the potential value of a National PrEP Program for communities across the United States.
"Over two years after generic competition in the US slashed PrEP medication costs to less than a dollar a pill- down from an annual list price of $26,000- a majority of PrEP users are now on a generic regimen. But that hasn't translated into access for several key communities," explains Jeremiah Johnson, PrEP4All's Executive Director. "With medications finally priced in a way that makes sense for public health, now is the time to clearly define the potential benefits of investment in a National PrEP Program. We also need to get specific on how best to address remaining barriers to access including incomplete/complicated coverage options for un- and under-insured communities, provider network insufficiencies, and a lack of PrEP knowledge, awareness, and demand."
"Over the past two years, an evidence-based discussion on the implementation of and investment in a National PrEP Program has really heated up thanks to PrEP4All's advocacy," says Michael Chancley, Communications and Mobilization Manager at PrEP4All. "But as Congress and the Biden Administration weigh next steps on PrEP access, now is a crucial time for PrEP4all to take the discussion forward."
PrEP4All will convene two gatherings on a National PrEP Program before the end of 2023 thanks to the support of Arnold Ventures, including a discussion on the potential for cost savings to public and private payers and an assessment of best implementation practices to promote equitable access. Experts from academia, health departments, and affected communities will come together to provide detailed analysis of how federal investment in a National PrEP Program could benefit key populations and healthcare systems.
"If we can demonstrate that, coupled with an integrated delivery system for all PrEP services, public health pricing for PrEP medications can create a solid foundation for equitable access, we can apply this approach to other key public health interventions." says Amy Killelea, a Senior Policy Advisor for PrEP4All. "People, particularly marginalized and disenfranchised individuals, are dying every day from drug overdose, hepatitis C, HIV, STIs, and other stigmatized health conditions; we need a real world model of an integrated and sustainable national access program that works."
The first gathering will occur at Johns Hopkins University in October in order to provide key findings before the end of the year.
This work will be funded by a grant from Arnold Ventures. PrEP4All is grateful for their support.