Win Heart Strange Euphoria Box Set
Epic Records and Legacy Recordings proudly announce the release of Strange Euphoria, the first definitive career-spanning, multi-label boxed set retrospective chronicling the seminal American rock band Heart, personally curated by Ann Wilson and Nancy Wilson. One lucky winner will receive the Strange Euphoria Box Set. To enter the contest, fill out the form below from September 4 through September 25.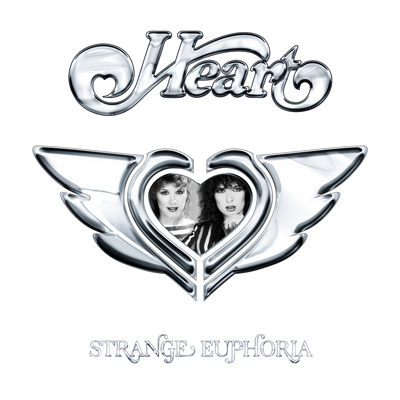 A carefully-considered anthology of biggest hits and best-loved songs set alongside deep catalog treasures, rarities, demos and live performances, Strange Euphoria, three compact discs and one DVD in a deluxe box, will be available everywhere now!
Ann Wilson and her younger sister, Nancy Wilson, first showed the world that women can rock when their band Heart stormed the charts in the 1970s with hits like "Crazy on You," "Magic Man," "Barracuda," 'Straight On," "Even It Up," "Kick It Out," and many more. Not only did the Wilson sisters lead the band, they wrote the songs and played the instruments, making them the first women in rock to do so. Heart continued topping the charts through the '80s and into the '90s with huge hits like "These Dreams," "Alone," "Never," and a string of other hits that showcased the sisters' enormous talents as both musicians and singers. Along the way, Heart sold more than 35 million records, had 21 top 40 hits, sold out arenas worldwide, and profoundly influenced the sound and direction of American rock music while inspiring women (and guys too!) around the world to rock out in bands of their own.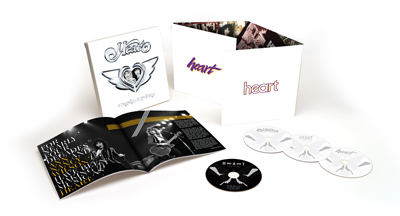 Heart - Strange Euphoria - track listing
CD 1
1. Through Eyes And Glass (by Ann Wilson & The Daybreaks)
2. Magic Man (demo)*
3. How Deep It Goes (demo)*
4. Crazy On You (demo)*
5. Dreamboat Annie (Fantasy Child) + Dreamboat Annie Reprise (edit)*
6. Love Alive
7. Sylvan Song
8. Dream Of The Archer
9. White Lightning And Wine (live at the Aquarius)*
10. Barracuda (live from BBC Radio Concert)*
11. Little Queen
12. Kick It Out
13. Here Song (demo)*
14. Heartless (demo)*
15. Dog & Butterfly (acoustic demo)*
16. Straight On
17. Nada One
CD 2
1. Bebe le Strange
2. Silver Wheels II
3. Even It Up
4. Sweet Darlin'
5. City's Burning
6. Angels
7. Love Mistake
8. Lucky Day (demo)*
9. Never (live, with John Paul Jones)*
10. These Dreams
11. Nobody Home
12. Alone
13. Wait For An Answer
14. Unconditional Love (demo)*
15. High Romance (demo)*
16. Under The Sky (demo)*
17. Desire Walks On ("Beach demo" version)*
CD 3
1. Kiss (by The Lovemongers)
2. Sand (live) (by The Lovemongers)
3. Everything (live) (by Nancy Wilson)
4. She Still Believes (live)*
5. Any Woman's Blues (demo) (with the Seattle Blues Revue Horns)*
6. Strange Euphoria
7. Boppy's Back (demo)*
8. Friend Meets Friend (live) (by The Lovemongers)*
9. Love Or Madness (live) *
10. Skin To Skin*
11. Fallen Ones
12. Enough
13. Lost Angel (live)
14. Little Problems, Little Lies (by Ann Wilson)
15. Queen City
16. Hey You
17. Avalon (Reprise)
* previously unreleased
DVD
KWSU "The Second Ending – featuring Heart" program
circa February-March 1976
1. Pre Show
2. Heartless
3. White Lightning & Wine
4. Dreamboat Annie
5. Silver Wheels
6. Crazy On You
7. Sing Child
8. Soul Of The Sea
9. Devil Delight
10. Magic Man
---
Visit:
http://www.heart-music.com/
http://www.facebook.com/heart
http://www.twitter.com/officialheart
http://www.youtube.com/thebandheart
This contest expired on Tuesday, Sep 25, 2012. Click here for other contests to enter.
blog comments powered by

Disqus
---