Enter to win Complete Series - Sex University by Louisa Bacio (on Audible)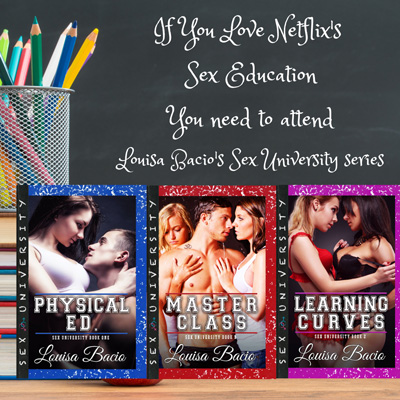 Enter to win Complete Series - Sex University by Louisa Bacio on Audible. To enter the contest, fill out the form below between Friday, August 25, and Friday, September 15.
"Louisa Bacio has some scorching hot lessons to teach in Sex U! Erotica as funny, sharp, and intelligent as we wish all our college classes could've been."
-- Cecilia Tan, author of The Siren and the Sword, the Magic University series
Get the complete series of Sex University by Louisa Bacio in one of our biggest Erie Gay News Giveaway yet! Whether you're a reader looking to curl up and listen to a good book when the kids go to school or a reader looking for something new, enter for your chance to win the entire Sex University series on audible.
Louisa Bacio published her first erotic thriller in June 2010. A Southern California native, Bacio can't imagine living far away from the ocean. The multi-published author of erotic romance enjoys writing within all realms - from short stories to full-length novels.
Riverdale Avenue Books
Riverdale Avenue Books is an award winning, innovative hybrid publisher at the leading edge of the changes in the publishing industry.We publish e-books and print titles under 15 imprints: Desire, an erotica/erotic romance imprint; Magnus, the award-winning LGBTQ+ non-fiction imprint from lifestyle to memoir; Magnus Lit, a collection of LGBTQ+ fiction titles; Pop featuring pop culture titles; Afraid, a horror line; SFF, a science fiction fantasy line; Truth, an erotic memoir line; Dagger, a mystery thriller imprint; Sports and Gaming featuring sports and gaming titles; Verve featuring lifestyle titles; Hera featuring both the true and fictional lives and loves of women aged 35 and up; 120 Days, an LGBT pulp fiction line; Binge Watcher's, featuring Binge Watcher's Guides and Circlet, an erotic science fiction and fantasy imprint. Started in 2012 by industry veteran Lori Perkins, Riverdale is a full service publisher, with a subsidiary rights department.Visit us at www.RiverdaleAveBooks.com.
This contest expired on Friday, Sep 15, 2023. Click here for other contests to enter.