Gay Author Joey Amato Releases Everyday Investing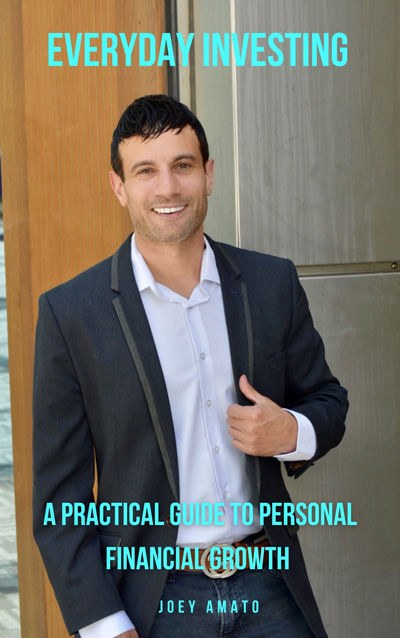 NEW YORK, NY - Financial freedom and wealth-building are no longer elusive concepts with the release of the highly anticipated book, Everyday Investing: A Practical Guide to Personal Financial Growth by LGBTQ author, Joey Amato. This comprehensive guide offers readers the knowledge, strategies, and confidence to take control of their financial future.
In an era where financial literacy is paramount, Everyday Investing equips readers with the tools and insights needed to navigate the world of personal investing. Drawing from years of experience and first-hand knowledge, Joey Amato demystifies complex investment concepts, making them accessible to individuals from all backgrounds and experience levels.
"The book takes readers on a transformative journey, starting with the basics of investing and gradually building upon that foundation," states Amato. "Readers will explore various investment vehicles, including stocks, bonds, mutual funds, real estate, and more." Each chapter provides in-depth analysis, empowering readers to make informed decisions and navigate the ever-changing investment landscape.
Readers will learn to overcome common pitfalls driven by fear, greed, and other emotional biases that can hinder financial success. The book emphasizes the importance of aligning personal values with investment choices, including socially responsible and sustainable investing.
"I wrote Everyday Investing because I want people in the LGBTQ community to be confident and proud about investing for their future. Many of us focus on today, spending thousands of dollars per year on vacations, dinners, and luxury items when we should be planning for our future. It's perfectly ok to splurge every now and then, but I would much rather be able to retire by 50 than 62 the earliest ago that a person can choose to receive Social Security benefits."
As a young adult out of college, Amato accumulated over $50,000 in credit card debt to 'keep up with the Jones's'. At 31, he finally took control of his financial life and began saving and investing, slowly paying down debt, and is now 100% debt-free with the exception of a low-interest rate home mortgage.
"I made many financial mistakes throughout the early part of my life and my dream for this book is to educate people, so they don't make the same mistakes I made."
Everyday Investing is a roadmap to financial freedom and the fulfillment of personal aspirations. It empowers readers to create a personalized investment plan, aligned with their unique goals and dreams.
"Although I am not a financial advisor nor did I go to school for finance, I spent years educating myself and learning about investing. I wrote this book with the intention of providing LGBTQ readers with a clear roadmap to financial success," he mentions. "I believe that everyone has the potential to achieve their financial goals, and I am thrilled to share my knowledge with my community."
Everyday Investing: A Guide to Personal Investing is now exclusively through Amazon.com for $9.99 if purchased before August 31: https://a.co/d/cbGvjmH
A portion of proceeds from the sale of Everyday Investing prior to August 31 will be donated to GLAAD.