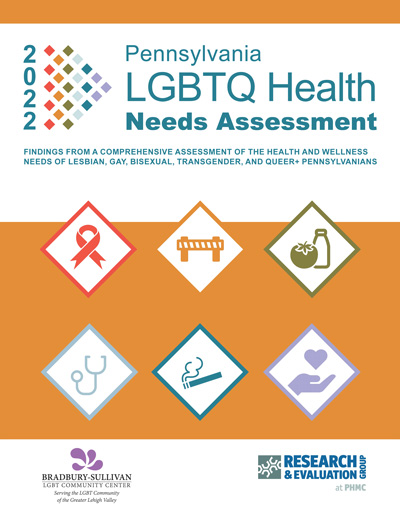 The 2022 Pennsylvania LGBTQ Health Needs Assessment finds that depression is still the most frequently prioritized community health issue, as it has been since the assessment was first administered in 2015.
Bradbury-Sullivan LGBT Community Center, along with a coalition of other LGBTQ+ organizations, Public Health Management Corporation, and the Pennsylvania Department of Health administered the statewide assessment in early 2022. Thousands of LGBTQ+ Pennsylvanians shared their experiences and opinions on a range of health topics.
More than one-third of LGBTQ+ Pennsylvanians (38.1%) reported feeling isolated in the previous year, and 21.3% reported rarely or never receiving the social and emotional support they needed. Increased mental health challenges contribute to LGBTQ+ Pennsylvanians' increased likelihood of engaging in unhealthy ways to cope, such as tobacco use, binge drinking, and substance use. These challenges are heightened for LGBTQ+ people living at the intersections of multiple marginalized identities.
Mental health providers must unite with LGBTQ+ community centers to establish an accessible, affordable network of affirming mental health supports. In doing so, they need to prioritize the needs of transgender, non-binary, and BIPOC community members, who are more likely to experience barriers to care.
More than half of community members surveyed reported having considered suicide at some point in their lifetime. Collaborating to connect this community to culturally competent mental health services will save lives.
Read the full 2022 PA LGBTQ Health Needs Assessment report, as well as prior years' reports, at https://www.bradburysullivancenter.org/health_needs_assessment.