Going Back to School in Style
by Rex Apps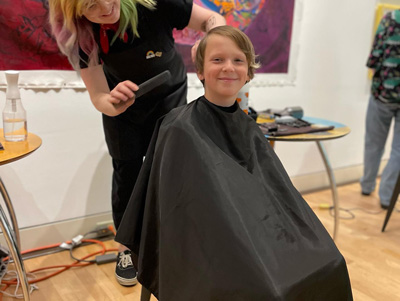 Photo from Compton's Table
With the start of a new school year there is always a long list of supplies every student needs to have for their first day of classes. This week, with some help from the collaboration of many local entities, those lists seemed a bit more manageable for many LGBTQ+ youth in our area.
On Sunday, August 21, Macy's at the Millcreek Mall hosted LGBTQ+ youth for a private shopping experience at the store. The youth had the red carpet rolled out for them. Each participant was gifted with swag bags and snacks while they enjoyed shopping and meeting new friends.
NW PA Pride Alliance Inc., Greater Erie Alliance for Equality (GEAE), Transfamily of NW PA, and Erie Gay News teamed up Tuesday, August 23, for a school supply drive that was held at Community United Church on West 38th Street. All of the items that were collected will be given to Compton's Table for distribution at their event.
The Erie Art Museum served as the host Sunday, August 28, for the final back to school event hosted by Compton's Table. Here over 70 youth were given the opportunity to pack totes and backpacks full of school supplies and clothing. They were also given the opportunity to rock fresh haircuts for the first day of school provided by Moxi Hair Salon of Erie and Reverie Salon of Fairview.