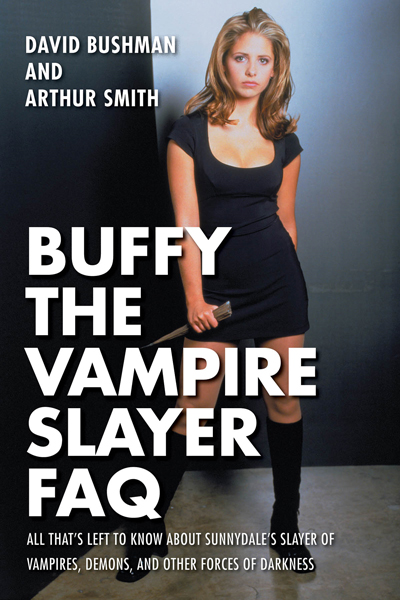 Enter to win Buffy the Vampire Slayer FAQ: All That's Left to Know About Sunnydale's Slayer of Vampires, Demons, and Other Forces of Darkness by David Bushman and Arthur Smiths! To enter the contest, fill out the form below between Friday, March 2 and Friday, March 23.
Buffy the Vampire Slayer redefined what was possible for teen-centric TV, built an extraordinary strong bond of love and loyalty with its passionately devoted fans, and launched the meteoric writing and directing career of creator Joss Whedon. Buffy the Vampire Slayer FAQ takes a comprehensive look at the groundbreaking series, giving both Buffy experts and newbies fresh insights into the creation and production of the show, in-depth analysis of the show's complex mythology and thematic concerns, and lots of irreverent cracks at Riley's expense (love ya, buddy). Readers will learn secrets even the Watchers Council doesn't know, relive their favorite moments from the show, and settle once and for all: Angel or Spike?
Enter the Contest!
Please note that only 1 entry is allowed per person. Contests are open to US residents only.