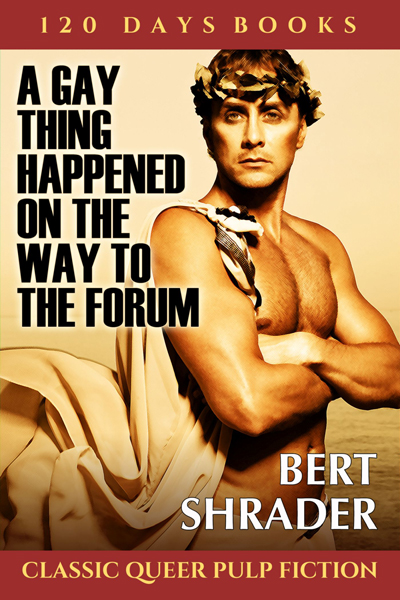 Enter to win A Gay Thing Happened on the Way to the Forum e-book from Riverdale Avenue Books! To enter the contest, fill out the form below between Tuesday, March 6 and Tuesday, March 27.
Imagine a series of Gay Games before there was a Federation of Gay Games. Imagine a gaycation entrepreneur staging his own Olympiad in a small Mexican town, hiring hustlers to play athletes and then watching in amazement as they start competing for real.
A Gay Thing Happened on the Way to the Forum is a sexy, surprisingly sweet story about men discovering their true selves in an artificial environment and finding out that love always takes home the gold!
About 120 Days
120 Days is an imprint of Magnus Books/Riverdale Avenue Books dedicated to reprinting classic erotica, especially the LGBT titles of the 20th century. These vintage gay erotic novels, many written by novelists unable to find other outlets for fiction about gay men and women, peaked between 1968 and 1982. As censorship laws were struck down across the US, the best of these writers continued to turn out well-plotted genre novels--spy thrillers, science-fiction tales, mysteries, swashbuckling adventures, gothic romances and even pre-"Brokeback Mountain" westerns--within whose conventions they were able to explore the full range of their characters' lives. Surprisingly modern with just a dash of retro appeal these largely-forgotten novels are both great, fun reads and a bracing reminder that times change but people don't.
Enter the Contest!
Please note that only 1 entry is allowed per person. Contests are open to US residents only.