Buffalo United Artists proudly presents "STRAIGHT" as part of its 25th anniversary season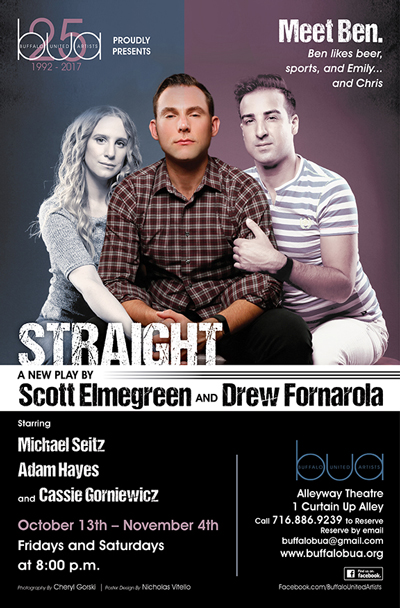 Straight is a provocative new play that deals with fidelity, sexuality, and identity in "post-Equality" America. Funny, sad, sexy, and surprising, this three-character play takes a hard look at the moral complex of a generation that prides itself on the pretense of acceptance. Straight is written by Scott Elmegreen and Drew Fornarola (*). The play is directed by Javier Bustillos and stars Michael Seitz, Adam Hayes, Cassie Gorniewicz. It runs at Buffalo United Starts at Alleyway Theatre - Main Stage, One Curtain Up Alley, Buffalo NY from October 13 to November 4 on Fridays and Saturdays at 8 PM. Tickets are $25.00 general admission, $23.00 for seniors, $20.00 for members, $15.00 for students. For more info, call the box office at (716) 886-9239 or visit Buffalo United Arts online at www.buffalobua.org.
Straight is a 2016 New York Times Critics' Pick. BUA is a self-supporting collective of professional theater artists working to present provocative and relevant work that examines the gay, lesbian, bisexual, transgender, and queer experience. (*) playwright/songwriter Drew Fornarola is based in New York city but he is originally from Buffalo and is a graduate of Williamsville East High School.