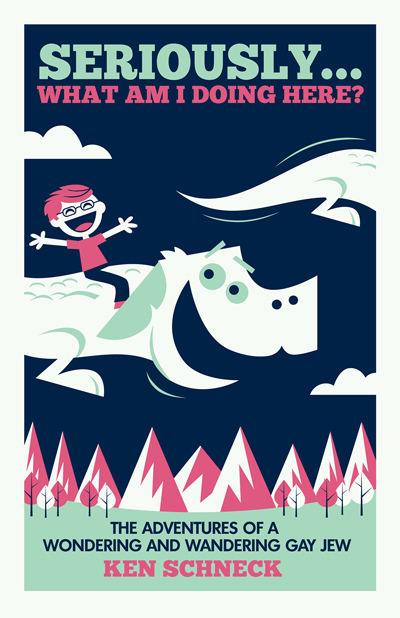 Enter to win Seriously...What Am I Doing Here? The Adventures of a Wondering and Wandering Gay Jew by Ken Schneck. To enter the contest, fill out the form below between Tuesday, August 8 and Tuesday, August 29.
Now more than ever, we all need a little escapism to gain perspective on our world and our lives. Realistic escapism is not buying a villa in Italy and pretending to be Diane Lane under the setting Tuscan sun. Sometimes it's taking two weeks to lose yourself in the Colorado Rockies when you've never been camping, and the idea of digging a hole for a restroom feels more metaphorical than actual.
Seriously...What Am I Doing Here? The Adventures of a Wondering and Wandering Gay Jew [1984 Publishing, May 2017] by Ken Schneck, PhD, is a travelogue of Schneck's literal and figurative journeys that everyone can relate to. Especially the 35,000 weekly listeners of his radio show This Show is So Gay and readers of his viral Huffington Post column. All the same, Schneck takes full responsibility if there's a surge of inexperienced campers rushing to the Rockies the way day hikers flocked to the Pacific Crest Trail to Wild their way to personal fulfillment.
An academic gay Jew who had never been an adventurer, in Seriously…, he finds himself stumbling twice into rural Uganda; signing up for a 425-mile bike ride; deep in the backwoods of the aforementioned Colorado Rocky Mountains and much more.
"There's a dearth of gay writers out there who actually have focus, can write as opposed to tweeting or just relaying a salacious tale, and, with supreme respect to David Sedaris, are under 60. Or under 50. Or even under 40," Schneck says. "I tried to write a book that is witty without being bitchy, intelligent without being academic, meaningful without being self-help-y, and entertaining without being fluff."
This contest expired on Tuesday, Aug 29, 2017. Click here for other contests to enter.