Enter for a chance to win Elle Casazza's Proof!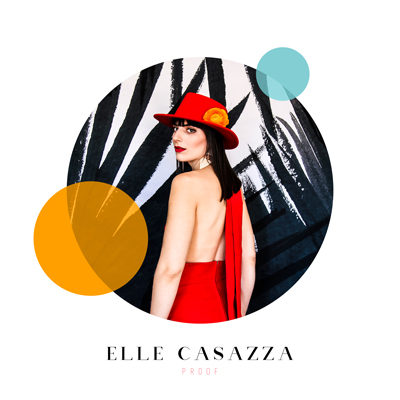 Enter for a chance to win Elle Casazza's Proof! To enter the contest, fill out the form below between Tuesday, August 1 and Tuesday, August 22.
"Too Bad" Coincides with Upcoming U.S. Summer Tour To Support Latest Full-Length Release 'Proof'
(Chicago, IL) 6/1/2017 – Songwriter, singer and live performer Elle Casazza is gearing up to head back on the road and kick off her summer tour. Tour dates have currently been announced in Chicago, New York city and more to be announced soon. Elle will be showcasing her own retro-pop signature style on stage as she performs songs from her latest album, Proof. The album includes the reggae-ska-pop fused track "Too Bad," her recent love ballad "You," along with soul influenced songs such as "Hey" and "Cooking."
Elle Casazza's "Too Bad" is a lively pop single peppered with beachy guitar riffs, light-hearted percussion and a strong brass section that delivers a reggae, funk presence. The instrumental melodies coil around Elle's soulful and sophisticated voice which later breaks into a high-spirited solo featuring Xavier Gordon on trombone, Caleb Mitchel playing the trumpet and Kyle Madsen on sax. The single indulges into the satisfying feeling after a break up when an ex-companion tries to crawl back to the relationship that they previously ruined. However, the other partner has already moved on. In the addictive and sweeping chorus Elle describes how she has already forgotten about her ex-boyfriend and it's really "too bad" if he tries to come back.
The accompanying music video for "Too Late" was created by Bummer Camp Media. The video follows three women enjoying their lives while at the beach and a club while focusing on the power of a female friendship. Cropped with groovy visual effects, colorful filters and vibrant outfits the music video compliments the light-hearted and liberating vibe of the song.
"'Too bad' is a song that fulfills a fantasy of revenge over an ex, says Elle. "The song has a really playful energy to it, so when it came time to film the video we went with that theme."
The album, Proof was mastered by Grammy Award-Winning James Auwarter out of his own recording studio, Coda Room Audio in Chicago, IL. Elle Casazza has already released two various singles off her recent full-length; displaying her multifaceted skills. The singer-songwriter diversifies the pop scene with her own refreshing and authentic blend of jazz, soul, funk and pop rhythms that are seamlessly crafted into her songs. Elle's commanding vocals, defying songwriting and versatile approach produces infectious and timeless music that garners fans worldwide.
For more information please visit ellecasazza.com
This contest expired on Tuesday, Aug 22, 2017. Click here for other contests to enter.