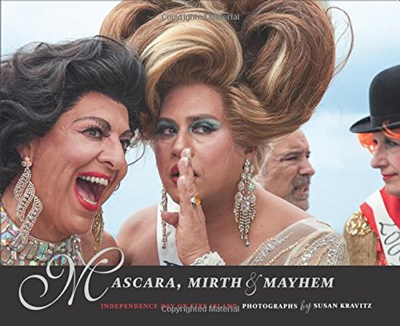 Enter for a chance to win Mascara, Mirth & Mayhem: Independence Day on Fire Island! To enter the contest, fill out the form below between Friday, August 4 and Friday, August 25.
Mascara, Mirth & Mayhem: Independence Day on Fire Island celebrates Human Rights and Freedom of Expression in the LGBTQ Community
New York, NY - Mascara, Mirth & Mayhem is a collection of photographs taken by renowned photographer Susan Kravitz over the past thirty years at the annual LGBTQ event known as the Invasion of the Pines.
The Invasion of the Pines occurs every July 4th and involves participants from the Fire Island communities of Cherry Grove and Fire Island Pines. It began in 1976, when a member of the Cherry Grove community had been refused service in a Pines' restaurant because he had been dressed in drag. In protest, a small group of Cherry Grove residents cross-dressed and took a water taxi to the Pines on Independence Day of that year, to stand up against this "height of insult" by "invading" their neighboring community. Four decades later, the Invasion has evolved into a uniquely raucous event that joyfully celebrates human rights and freedom of expression by thousands of people, straight and gay.
Kravitz's photographs capture the rebelliousness, the high camp, and the joy of the Invasion. They are provocative, introspective, sad and funny, and tinged with sexual innuendo. Yet they also reflect another journey, one that gives insight into the LGBTQ movement itself. From the fearful, AIDS-ridden years of the 1980s and 1990s, to the joyous years of this decade when LGBTQ people are out and proud (and, if they choose, legally married), these Invasion photographs celebrate a day to be free, to be whoever you want to be, and to be gay.
"My photographs are as much about the times I which they were taken as they are about the people who populate them. Ultimately, they are about human rights and freedom of expression seen through the lens of the Invasion." said Kravitz of her eighty-eight color and black and white photographs.
Available for order at www.mascaramirthmayhem.com
Release date: July 4, 2016
Photography & Introduction: Susan Kravitz
Foreword: Stephen Mayes
History & Interviews: Lani Buess
Pages: 148
Images: 88 images in full color & quadratones
Size: 12 in x 9.75 in
ISBN: 9780990790877 (Hardcover)
ISBN: 9780990790884 (Softcover)
This contest expired on Friday, Aug 25, 2017. Click here for other contests to enter.