Everyone Welcome in Historic San Juan
By Bill Malcolm*
Beaches, great food, a friendly welcoming culture, and lots to see and do in a city founded five hundred years ago make San Juan, Puerto Rico perfect for a holiday. Best of all, it's so easy: no passport needed, your phone and phone plan work, and everyone speaks English as well as Spanish. Did I mention the good coffee and rum?
I was in town for the 40th Anniversary Convention of the IGBTQ+ Travel Association along with almost seven hundred other travel professionals. Among the many panels, one discussed how to make the other Caribbean islands as welcoming to the LGBTQ+ community in Puerto Rico. Details at iglta.org.
GETTING THERE
I took Southwest to San Juan (SJU) via Fort Lauderdale on the way there and Orlando on the way back. I paid just $317 round trip from Indianapolis and hopped on an earlier flight on the way back thanks to their new free stand by policy. Spirit and Jet Blue are also extremely popular choices to get to the island.
WHERE TO STAY
I stayed at the Coqui Del Mar Guest House in Ocean Beach (2218 Calle General Del Valle). The lodge features a great cooked to order breakfast with a side of fresh local fruit (and fresh tropical juices),as well as Puerto Rican coffee which is quite strong.
A pool and hot tub, free use of several bicycles also makes for a great visit. On weekends they serve brunch which was home made paella the Saturday I was there They offer tours of Old Town as well as of the Yonqui rain forest You can walk or bike to nearby Ocean Beach. Details at coquidelmar.com. The property also has VRBO rentals nearby.
Other lodging options include the chain hotels in the Condado district including the LGBTQ friendly Tryst Hotel which sits right on the beach. The Miramar neighborhood includes the Dan Rafa Boutique Hotel (601 Avenida Miramar) which has a nice bar in the lobby and is in a cute neighborhood with a lot of shops. The Fairmont in Isle Verde near the airport also features a casino, several pools, and a fun bar. Be sure and be on the lookout for about resort fees and other sneaky junk charges (aka destination fees, property fees, etc.). They vary widely but many hotels now have them and not just here.
WHAT TO DO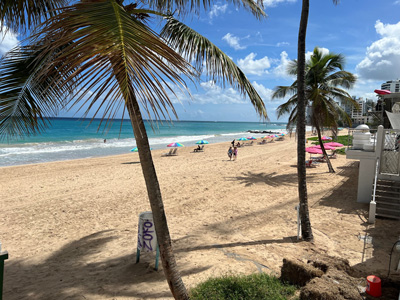 Condado Beach San Juan
San Juan is a city of historic, interesting, and colorful safe neighborhoods and I explored many of them. The Condado neighborhood is right on the beach and has interesting shops and many higher end hotels. The beach is beautiful and features a gay section (Atlantic Beach). You can rent chairs right on the beach. Plan on a day at the beach.
The nearby Santurce neighborhood is up and coming. Stoll down Calle Loiza for the most popular cafes, galleries, and murals. The Santurce Mercardo is a farmer's market in this up and coming arts district of Santtucre which is known for a lot of murals. Buy a Puerto Rican hat at the hat store.
Old San Juan is the highlight of my entire trip and focuses on this area founded in 1508 by Ponce de Leon. I took a walking tour of the gay monuments of Puerto Rico Gay Tours (www.PuertoRicoGayTours.com) which focused on historic Old San Juan.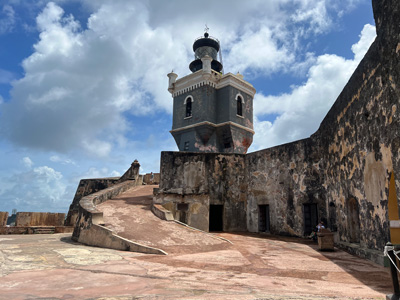 Morro Fort in Old San Juan
You will also want to visit Fort Morro (Castillo San Felipe del Morro) in Old San Juan now run by the National Park Service. Built in 1539 by the Spaniards to fortify San Juan, they needed the Island for supplies for ships en route to the America's from Europe and Africa. El Morro was built to protect San Juan Bay's deep harbor from attack by the sea and sits at the end of the city which also had a wall built around it. The Spaniards ruled until 1898 when Puerto Rico became a U.S. Territory.
The Distrito T Mobile near the Convention Center is the new entertainment and dining destination. They had La Bamba dancers at the opening night of ILGLTA when I was there. (LaBamba is a dance native to Puerto Rico.)
Rio Piedras is another neighborhood to visit. I took the Tren Urbano (metro or subway) to the Rio Piedras neighborhood for lunch at the Plaza del Mercardo (farmers market) and had a fresh juice smoothie (papaya, guava, pineapple, coconut) and a meat roll from the Dominican Republic. A local band played while a dancer accompanied them at the Plaza.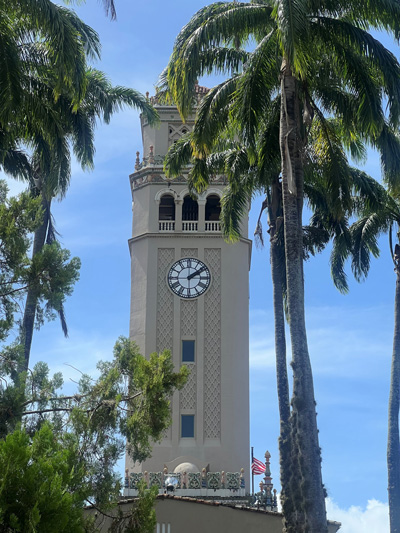 University of Puerto Rico
Nearby is the beautiful University of Puerto Rico campus which features Spanish architecture and lots of tropical trees. The Spanish architecture reminded me of the Stanford University Campus in California.
I then took the Train (Tren Urbano) out to the last station, Bayamon, and walked around this historic suburban city which is over 250 years old. Have something to eat or drink at the food trucks which are parked in shipping containers. There are two small museums in the small suburban village which is very walkable. The train system is safe, modern and graffiti free. Take an Uber to the Sagrado Corazon station to catch it as it does not run into the popular neighborhoods nor the airport, convention center, nor Old Town. Day passes are just $5. It is a perfect way to explore the area.
NIGHTLIFE
San Juan has the best nightlife in the Caribbean. Tia Maria's in the Santurce neighborhood is a lot of fun and features a friendly local crowd. Oasis is close to the gay beach in the Condado neighborhood right on the beach. Head to La Placita, the Santruce fruit market by days but is packed on weekends. The Circo Bar is popular as is Kweens Klub with its huge dance floor.
WHERE AND WHAT TO EAT
Lots of food options with interesting dishes define this city The food uses lots of local spices.
For a splurge, Marmalade Restaurant in Old San Juan features fourteen course meals . The beef tenderloin was excellent. Nearby I also had a rum cocktail at La Factoria (148 Calle San Sebastian).
While in Puerto Rico, enjoy the local fruits (mango, papaya, pineapple, coconut). The bread is particularly good. Rice and beans are a staple. Many restaurants also feature paella (the Spanish rice dish with seafood and vegetables). Expect alof of Island spices including cilantro in many dishes.
Bacardi makes rum right on the Island and the Pina Collada was invented here. Rum is produced from sugar cane which is produced on the island.
For a snack, try the local candies like the coconut ginger bar.
TRAVEL TIPS
This is a Spanish speaking island although most people also know English. Street signs are in Spanish. They use the metric system (gas is $1.00 a liter) but the speed limits are in miles per hour.
Skip the rent a car and take Uber. It's fast and cheap.
Although it sometimes does not feel like it, you are in the U.S. Which is why I liked to 345pm Welcome: Bill Sweeny-A great way to meet in person the GA expert team. Introduce Directors and GA staff (go around room). Introduce Jenn and other VPs.
'Live Boricua" (live Puerto Rican) referring to the spirit, flavor, and rhythm you will feel in every part of the island. The locals are a proud and happy people living on a wonderful island. This was my first visit to the commonwealth, but it won't be my last. This is an easy to visit,LGBTQ+ welcoming tropical paradise that has not been over-run with tourists like Puerto Vallarta and other destinations have.
The Discover Puerto Rico website features a LGBTQ section full of travel tips including nightlife ideas.
You owe it to yourself to visit, especially given you don't need a passport and the airfares are so cheap. Live Boricua!
*Bill Malcolm is North America's only syndicated LGBTQ+ value travel columnist.