Creating Change 2024 Registration Opens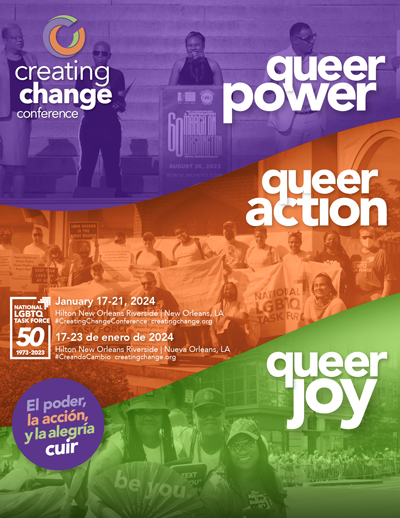 The National LGBTQ Task Force is pleased to announce registration for the 36th Creating Change Conference is now open. Join us in New Orleans, Louisiana, from Wednesday to Sunday, January 17-21, 2024!
A special kick-off registration rate is available in limited supply until November 10. Get your discount today!
As January approaches, here are some Creating Change 2024 highlights:
Emcee News: We are thrilled to announce that Raquel Willis, award-winning activist, author, and media strategist dedicated to Black transgender liberation, will be our host from the plenary stage and participate across the conference!
Program: We continue with a long tradition of compelling Institutes, keynote presentations, annual awards, and more than 100 workshops and caucuses!
Have fun! You'll have a great time while learning, building skills, and meeting new people at Creating Change! Make friends at Gayme Night, our popular Opening Cruise, or in the Art Studio Space. You can even strut your stuff at the annual House Ball - this year's event will feature some extra special guests and surprises!
Public Health: The National LGBTQ Task Force recognizes that COVID-19 remains an ongoing public health concern, and we comply with all local and federal regulations at our in-person events. The Task Force also recognizes the disproportionate impact of COVID-19 on those who are immunocompromised, managing pre-existing conditions, and/or those who may care for loved ones at home. Please visit us online for more about public health at CC24.
Accessibility: The Task Force continues its long-held commitment to full participation for as many attendees as possible. ASL, Spanish/English interpretation, closed captioning, and audiovisual/mobility support are provided.
Financial Assistance: The conference remains committed to removing financial barriers for attendees. Applications are available for Limited Income Registration ($195) or Waived Registration ($0). Please visit us online for more information about financial assistance.
Creating Change 2024 marks the conclusion of the Task Force's 50th anniversary year. Let's close out the celebration together in New Orleans!
at https://www.thetaskforce.org/creating-change/
before you go: Don't forget to make your reservations at the Hilton Riverside. A discounted Creating Change Conference rate is only available until December 26, 2023. Take it from us - don't delay!