Local Non-Profit Supporting Animal Rescues to Hold Inaugural Fundraiser and Raffle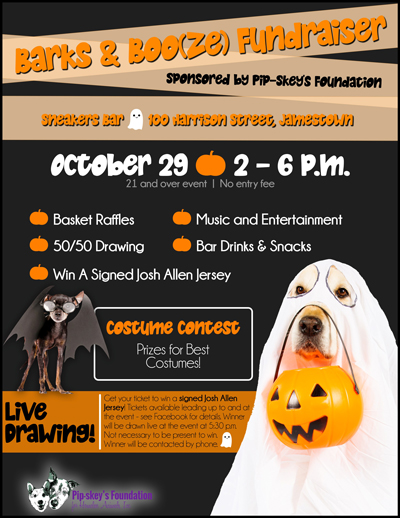 Jamestown, NY- Pip-skey's Foundation for Homeless Animals Inc. is proud to announce their first fundraiser supporting their mission to provide financial support to local animal shelters, rescues, and pet owners.
On Sunday October 29 from 2-6pm, Pip-Skey's Foundation will be holding an event at Sneakers Bar - located at 100 Harrison Street in Jamestown - to introduce their organization and begin their fundraising efforts for animal rescues in the greater Chautauqua County Area. This event will feature music, The Taco Hut Food Truck, basket raffles, 50/50 drawing, door prizes, and a grand prize raffle of a signed Josh Allen Jersey. Pre-sale tickets for the grand prize are available for sale at Sneakers Bar, the Landmark Restaurant, and Honda of Jamestown.
Entry to this event is free for adults 21 years of age and over, and open to the public. We hope all our fellow animal-loving friends will come out to support our cause, learn about our mission, and pick up information to share with their favorite local shelter.
About Pip-skey's Foundation for Homeless Animals Inc:
Pip-skey's Foundation strives to raise funds and advocate for animal rescues and shelters in Chautauqua County through fundraising efforts. As they raise funds, they will be able to provide funding for vet bills, food, and general supplies. They hope to work with not only local rescues, but individuals in the community who dedicate their time and efforts to assisting animals in need.