Community Spotlight #11: Erie County HIV Task Force
from Erie County Department of Health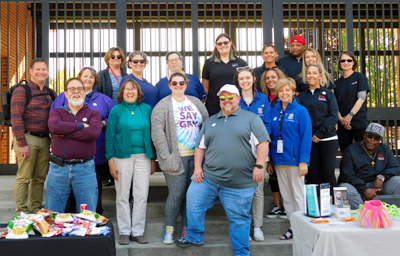 Members of Erie County HIV Task Force and supporters at 6th Annual HIV Awareness Walk on May 15, 2023. Photo by Andrea Shaffer.
The Erie County HIV Task Force is a collaboration of local organizations and individuals dedicated to educating, supporting, and advocating for people living with HIV/AIDS and preventing the spread of infection in Erie County, Pennsylvania. Formed in 2014 by Laura Beckes and Sylvia Holland at the Erie County Health Department, the group has been bringing together Erie County volunteers to increase the awareness of HIV, its treatment, and prevention for our residents. Groups involved have included Adagio Health, Central Outreach Wellness Center Erie, Community Health Net, Edinboro University, Erie Gay News, Erie VA Medical Center, Greater Erie Alliance for Equality, Guadenzia, LECOM, MidAtlantic AIDS Education Training Center, NWPA Medical Reserve Core, NWPA Pride Alliance, PA Thrive Partnership, SafeNet, TransFamily, UPMC Hamot, and Urban Ministries.
The HIV Task Force has focused its efforts on the following areas: Collaboration to benefit Erie County residents with providers of prevention and treatment for HIV work toward Ending the HIV Epidemic and advocating to champion awareness of HIV and STI safety, which has included our successful Condom Distribution Program across the City of Erie and beyond. Being a resource to the public in allowing Erie County residents to consider options for improving their lives regarding HIV and STIs. Educating through lectures for the local care provider community, one-on-one sessions with patients, and outreach with awareness day events. And providing support activities for testing options at various locations around Erie County.
The HIV Task Force meets monthly with in-person and virtual options open to the public. In the spring, we host an annual HIV/AIDS Awareness Walk. Our members participate in the summer's strongly attended Pride Fest and Parade. Each year, on December 1st, we host an AIDS Memorial Service event as well. These events, along with news about items in the HIV medical community, can be found on our social media accounts on Facebook and Twitter as well as our website. In addition to these specific programs, the HIV Task Force in 2016 developed a countywide Condom Distribution Program, which began with making brown bags of condoms, literature on testing/treatment, and lube available at public venues. After the COVID-19 pandemic, this program was expanded into a private, free home mailing service for Erie County residents. Individuals can order a dozen condoms for free to be sent via the mail to their address. This provides an option for folks who cannot get to a distribution site or prefer a confidential option.
Anyone interested in learning more about the Erie County HIV Task Force is welcome to join a meeting, attend an event, or reach out to Gary Snyder, the Task Force Chair, at the Erie County Department of Health. Volunteers are always welcome, especially when we hold condom-bagging events or host other activities. Volunteer opportunities could involve resupplying condoms bags at sites, attending local activities to promote awareness and providers, organizing events within Erie County, and more including providing feedback on our plans and ideas by contacting us at 814-315-3375 or admin@echiv.org