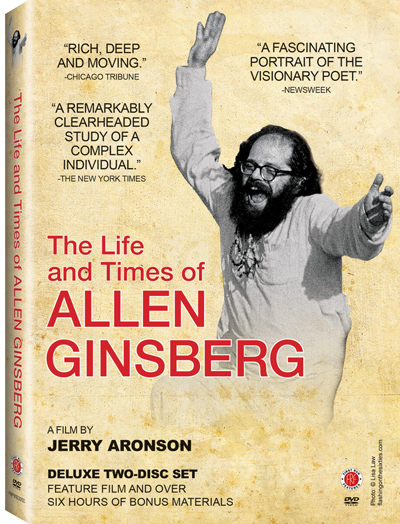 Enter to win The Life and Times of Allen Ginsberg DVD! To enter the contest, fill out the form below between Tuesday, October 31 and Tuesday, November 21.
Visionary, radical, spiritual seeker, renowned poet, founding member of a major literary movement, champion of human rights, Buddhist, political activist and teacher - Allen Ginsberg's remarkable life shaped the very soul of American counterculture.
For 25 years, Academy Award®-nominated director Jerry Aronson accumulated more than 60 hours of film on Ginsberg, resulting in this comprehensive portrait of one of America's greatest poets, author of Howl and other groundbreaking poems.
The Life and Times of Allen Ginsberg premiered at the 1993 Sundance Film Festival and went on to enjoy success at theaters around the country. Now, the film has been digitally remastered in 16:9 HD (pillarboxed at 4:3, the film's original aspect ratio) and will be available to stream for the first time. In all, the film reveals the last 70 years of American culture beginning with the Beat era in the post-war Forties and Fifties, continuing through the revolutionary Sixties and concluding with the uncertainty and possibility of current times.
The Deluxe Two-Disc DVD includes the remastered feature film and over six hours of bonus materials including never-before-seen materials made public because of the warm friendship that developed between subject and director, as well as exclusive and revealing interviews with his friends, family and contemporaries such as Bono, Johnny Depp, Philip Glass, Ken Kesey, Timothy Leary, Paul McCartney, Yoko Ono, Patti Smith, Andy Warhol and many others.
The Life and Times of Allen Ginsberg - Official Trailer from First Run Features on Vimeo.
This contest expired on Tuesday, Nov 21, 2023. Click here for other contests to enter.