All An Act Theater Presents: The Cat and the Canary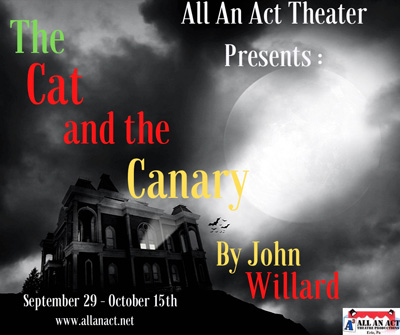 All An Act Theater presents The Cat and the Canary by John Willard. Adapted to the stage and Directed by J. D. Mizikowski and Char Newport . The play runs September 29th - October 15th, Fridays and Saturdays at 7:30 Sundays at 3pm, and stars Natalie Waddell-Rutter, Matt Dante, Ben Robson, Robin Baranski, Christine Pawlowski, Daniel Stripp, Andrew Heidt, Tori Snyder, and Erica Stripp.
The family of Ambrose West attends a reading of his will at midnight; just 20 years after his death.
His will designates that Annabelle West is his sole heir if there is no indication that she suffers from insanity. Should she be unsound of mind, a second will is to be opened naming a different heir.
The family tries to unbalance Annabelle with tales of lunatics, murders, and death strikes. All of the heirs are suspected, but not until the last minute is the extraordinary mystery solved.
Doors open 30 minutes to showtime. Cash, Credit Card, Apple Pay, & Android Pay accepted at the door, or purchase online and guarantee your seat! www.allanact.net
2023 Ticket Prices: Adults : $18, Seniors (55+) $15, Students $15, Children (6-11) $ 5
All An Act is at 652 West 17th Street (17th & Poplar Street), Erie, Pa 16502. 814-450-8553 or 814-449-6554 . Email: Director@allanact.net