Celebrate Pride Month with Pittsburgh's LGBTQIA+ Choir! Tickets on sale now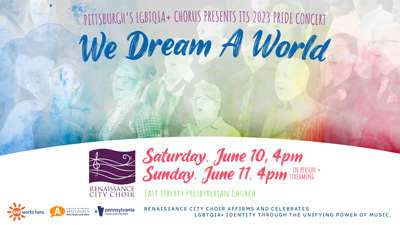 Every June, all eyes turn toward the LGBTQIA+ community. Corporations change their branding to incorporate rainbows as queer people march, demonstrate, and party in celebration of our community. We Dream A World where that celebration does not end on June 30th and where we find the "Courage To Be Who We Are."
Join Renaissance City Choir (RCC) at the East Liberty Presbyterian Church in Pittsburgh on June 10 & 11 at 4 PM. as we sing for justice and "Stand Up" in pride and in joy for our community not just in June but every month. This year's Pride Concert features selections from Dear Evan Hansen, Kinky Boots, the 2019 feature film Harriet, Considering Matthew Shepard, the Social Justice Songbook, and more - encouraging us all to love, support, and defend ourselves and our identities from those who seek to silence us.
Can't join us in person? Live stream tickets are also available so you can celebrate Pride with RCC from the comfort of home!
We will live stream Sunday's performance at 4:00pm EDT. The Sunday concert also offers a pay-what-you-can ticket option. A live-stream ticket also gives you access after the original streaming date.