By Steve Siwiecki
For peace and tranquility, visit Cauldron & Thorne, home of fine magical goods in Erie. I talked with owners Matt and Sonia Miller about this unique store. New to the area, they found a home not too far from Erie, but soon found that they had to drive 3-4 hours to find metaphysical items. They decided to take a chance and open a metaphysical store in Erie. Coming in with no preconceived notions, they wanted to open a happy place, a sanctuary, expecting all visitors to leave their prejudices at the door. They went from concept to opening in just 28 days, opening in October 2021. The following April, they expanded to the adjacent building, providing more space for activities.
They support a magickal, joyful, inspired lifestyle, featuring books from Llewellyn, Red Wheel/Weiser & Inner Traditions, a beautiful spread of crystals & gems, ceremonial supply, 20 varieties of sage, over 120 tarot & oracle, candles, Wildberry Incense, 90+ scents to tickle your nose (including backflow cones, sticks, resins), loose herbs for your magical workings, cozy finds & more. They also offer classes, host monthly full moon and new moon events, yule and Samhain events, and other celebrations and events (including a screening of Rocky Horror).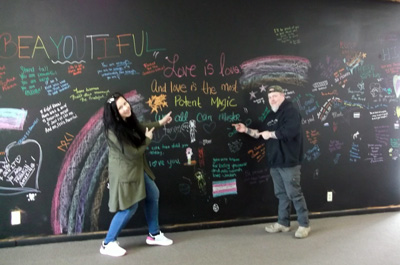 For pride month last June, they invited visitors to write something on the Pride Wall. One quote that caught my eye was "Love is love, love is the most potent magic that we all can muster." These were thoughts and ideas to take us through the coming year. This June, they will paint over last year's sentiments and open the wall for new thoughts and ideas to take us through the coming year, to make this an annual event.
Stop in and visit the friendly owners and employees, and lose yourself in a peaceful environment. They are located at 2724 West 8th Street, and their hours are 11:00 AM to 7:00 PM Monday through Saturday and 11:00 AM to 5:00 PM Sunday. To learn more about the types of items they sell and upcoming classes, visit their website at cauldronandthorne.com.