Werner Books Will Host Aging With Pride Book Club
By Steve Siwiecki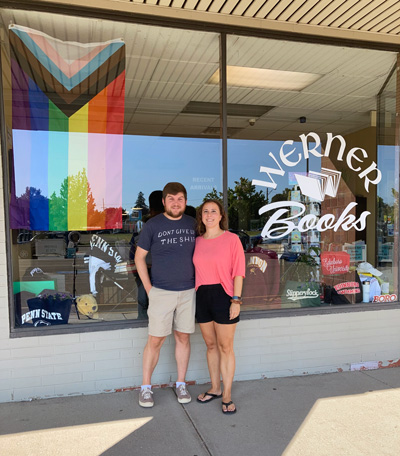 Looking for a warm and friendly place for new and used books? Try Werner Books, 3514 Liberty Street, Erie, PA 16508, in the Liberty Plaza.
I talked with Kyle Churman, who, along with his wife, Lauren Shoemaker, purchased Werner Books in March of 2022. They wanted to create a community space in Erie where anyone could come in and feel comfortable. They have added three book clubs to the already existing Wednesday Morning Book Club, which meets at Warner Books, offering a discount to members on the chosen books. Added were the Canalside Book Club, which meets at the Hagan History Center, the Books, and Beers Book Club, which meets at Erie Ale Works, and the Three Tulips Yarn Company Books Club, which meets at Werner Books. A fifth book club, the Aging with Pride Book Club, will begin meeting in May at Werner Books. For more information on these book clubs and other events, visit their website at www.wernerbooks.com.
Other recent and upcoming events include book signings by local authors, a bus trip to visit used bookstores in Cleveland, kids' events, and poetry readings. They also hold school book fairs that provide affordable books to kids. Unlike nationally sponsored book fairs that generally provide only new books, they provide used books to children for only $2 each. Kyle tells me the story of one child who paid for his book with 200 pennies he had saved up. They also collected books to be donated to the Erie Public Schools.
Kyle and Lauren recognize the importance of supporting locally owned businesses. They have partnered with many other local companies, including Wicks and Wax Studio, Glass Growers Gallery, North Edge Craft Coffee, Andora's Bubble Tea Shop, and Lake Erie Variety. They are planning to move into a larger space in the Liberty Plaza so they can add a coffee shop to allow room for people to come in, relax, and read.
Visit Werner Books for new and used books, join a book club, attend other events, visit the friendly staff, or take the Werner Books Challenge with prizes at 5, 10, and 20 books read in 2023. Their hours are Monday to Friday: 10:00 - 5:30, Saturday: 10:00 - 4:00, and Sunday: 11:00 - 4:00.