2023 Pride Fest and Parade Registration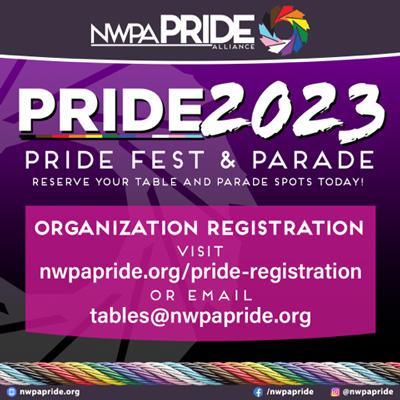 NW PA Pride Alliance will host Pridefest this year on June 24. We will gather at 11th and State Street (NOTE! NEW LOCATION!), Erie, PA, from 11-12 and step off to march to Perry Square at 12.
Once at Perry Square, we will have info tables, vendors, and performances by local drag and other performers.
This event is family-friendly and open to all ages at no cost.
If you are interested in having a table or being a group looking to register for the parade, please visit NWPAPride.org/pride-registration. There is no charge to be a parade unit; a table is $15 and includes an 8' long table and two chairs. You may bring your own up to 10' by 10' canopy/tent. Tables are limited, so please secure your table before the June 1 deadline. Please note that we have sold out of tables, and any new table requests will be on a waiting list.
Pridefest will start around 1 pm once the parade has finished and end at 5 pm.
Tables are expected to be in checked-in and set up no later than 12:30.
Individuals looking to march in the Pride Parade are not required to register.