Present and Future Stars of Marvel Comics Take Charge in MARVEL'S VOICES: PRIDE #1!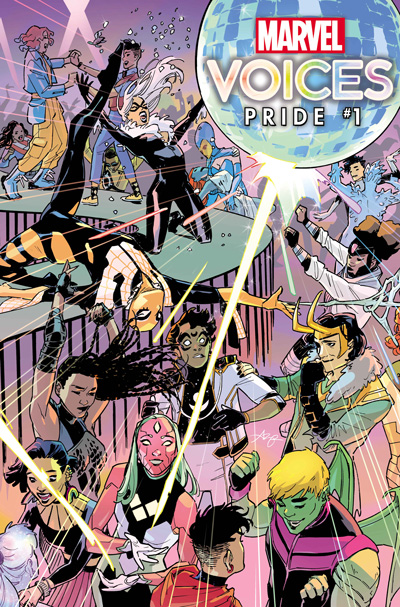 Superstar creators celebrate your favorite LGBTQIA+ heroes and introduce a host of new faces in this year's MARVEL'S VOICES: PRIDE one-shot, on sale June 14. Plus learn about other ways Marvel Comics will celebrate Pride this year!
New York, NY- March 20, 2023 - MARVEL'S VOICES: PRIDE #1, the annual one-shot that celebrates LGBTQIA+ characters and creators, returns this June with more impact than ever!
The groundbreaking anthology will continue its tradition of bringing the spirit of Pride Month to your local comic shop with a dazzling and diverse collection of tales, all brought together by an incredible lineup of new and established talent. Now in its third year, MARVEL'S VOICES: PRIDE #1 will proudly spotlight characters from all walks of life and identities in stories ranging from heartfelt to action-packed. In addition to favorites like Black Cat, Hulkling, and Wiccan, this year's one-shot will up the ante with a multitude of exciting character debuts and lead-in stories to upcoming titles! The 2021 and 2022 MARVEL'S VOICES: PRIDE introductions of Somnus and Escapade sent shockwaves through the Marvel Universe before appearing in titles like Marauders and New Mutants. You won't want to miss who's next! Fans from every arc of the rainbow and True Believers everywhere are invited to see the future of Marvel Comics in 2023's MARVEL'S VOICES: PRIDE #1!
Here's what's in store:
Get the scoop on an unannounced X-Men title coming later this year in a story by writer Steve Foxe and artist Rosi Kampe starring Gimmick, the breakout character from 2020's Children of the Atom!
An all-new hero takes on the mantle of "Nightshade" to protect her Chicago community in a rousing tale by writer Stephanie Williams and an exciting new artist!
Writer Sarah Gailey makes their Marvel Comics debut with a story starring Black Cat! Join Felicia Hardy at New Orleans Pride where she has a fierce encounter with the Thieves Guild-but this time she's out for more than riches!
Television writer Shadi Petosky (The Sandman) pens her first Marvel Comics story! Wiccan and Hulkling are on a much-needed getaway when the beloved couple finds themselves stranded. Luckily, they befriend an all-new super hero who lends a helping hand!
Author H.E. Edgmon introduces a brand-new symbiote character!
And much, much more!
In addition, PRIDE VARIANT COVERS will return, featuring both Marvel heroes and characters from a galaxy far, far away! Fans can check out some of this year's STAR WARS PRIDE VARIANT COVERS right now at StarWars.com and stay tuned later today for the reveal of this year's MARVEL PRIDE VARIANT COVERS.
June will also see the launch of a new LOKI limited series, one of many Marvel Comics titles publishing throughout the year that spotlight LGBTQIA+ heroes. Fans can also continue to celebrate Pride in the Marvel Universe this June in current titles like Betsy Braddock: Captain Britain, New Mutants: Lethal Legion, Star Wars: Doctor Aphra, Star Wars: Sana Starros, and more, plus upcoming titles and Marvel Unlimited Infinity Comics this summer, including a yet to be announced FALL OF X title!
Check out some of the covers now and stay tuned for further MARVEL'S VOICES: PRIDE #1 news. For more information, visit Marvel.com.
MARVEL'S VOICES: PRIDE #1
Written by STEVE FOXE, STEPHANIE WILLIAMS, SARAH GAILEY, SHADI PETOSKY, H.E. EDGMON & MORE!
Art by ROSI KAMPE & MORE
Cover by AMY REEDER
Variant Cover by P. CRAIG RUSSELL
Variant Cover by PHIL JIMENEZ
Variant Cover by JAN BAZALDUA
On Sale 6/14
To find a comic shop near you, visit www.comicshoplocator.com
About Marvel Entertainment
Marvel Entertainment, LLC, a wholly-owned subsidiary of The Walt Disney Company, is one of the world's most prominent character-based entertainment companies, built on a proven library of more than 8,000 characters featured in a variety of media for over eighty years. Marvel utilizes its character franchises in entertainment, licensing, publishing, games, and digital media.
For more information visit marvel.com.