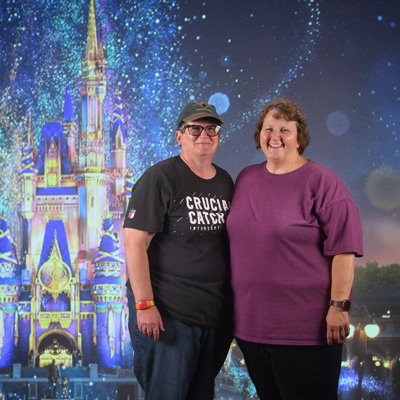 LBT Women organizers Andrea and Kim on a recent trip to Disney World
LBT Women of Erie is a social and support group for lesbian, bisexual, and transgender women. It was started in hopes of being a safe place for the LBT community to get together, make new friends and socialize in a safe environment.
Our group has been together in its current form since October 2008.
Currently known as the LBT Women of Erie, it was originally organized as Womynspace for many years. Around October 2008, Laurie Finch and Janice Hanusik took over organizing monthly meetings and activities. In December 2008, the group was renamed the LBT Women of Erie, given a new logo and the nickname "The Beans." "The Beans" is a play on the words "Lez -Beans."
In 2014, with Jan and Laurie moving to Florida, Kim Conti and Andrea Shaffer took over organizing the group.
Over the years, the LBT Women of Erie have attended local festivals, sporting events, participated in the EGN folding parties, gone tubing, and snowshoeing, had game and movie nights, wine tasting, Presque Isle clean up, and much more. We also have a table at the Erie PrideFest and the annual picnic on Presque Isle.
If anyone would like to volunteer to help carry the banner in the Pride parade or help at the table, please get in touch with Kim.
Kim and Andrea have hosted a summer picnic for several years, hoping to continue that tradition again this summer. Stay tuned for more information on the LBT Women of Erie Facebook page. The date should be posted early this summer.
Currently, the LBT Women of Erie do not have a designated meeting location, but we will be looking to pick one by the fall. Until then, we will plan a few outside locations to meet. One idea being at Presque Isle for a pontoon boat ride.
The LBT Women of Erie are open to suggestions and ideas for events that would be good for getting together and making new friends.
Please like and follow our Facebook page at www.facebook.com/lbtwomenoferie. Here you can stay updated on all our activities and message us with your ideas. You can also email eriebeans@yahoo.com or text/voicemail Kim at 814-490-3994.