PHOTOS: Human Rights Campaign President, Singer-Songwriter Shea Diamond, Drag Artists, Local LGBTQ+ Orgs Rally With Hundreds of Tennesseans Against Governor Lee's Anti-LGBTQ+ Legislation
Tennesseans rallied at Nashville's local LGBTQ+ Tribe bar against extremist lawmakers' relentless attacks against the LGBTQ+ community, specifically transgender and nonbinary people
Tennessee has enacted more anti-LGBTQ+ legislation since 2015 than any other state in the country, and is the first to criminalize drag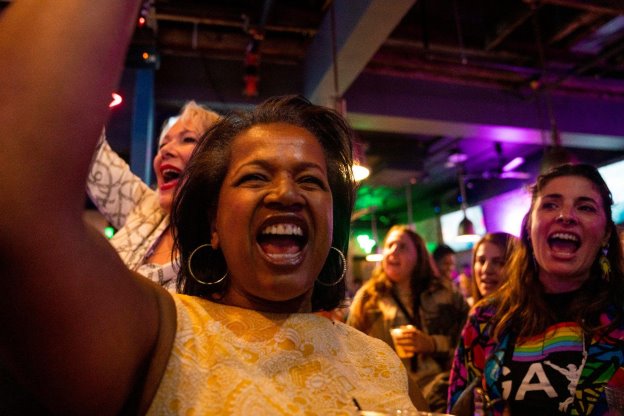 Attendee Caroline Rice cheers alongside others during Slay Hate: Fight Back Tennessee
Find photos from the rally here
Nashville, Tennessee - March 10, 2023 - On the heels of Gov. Bill Lee enacting a pair of discriminatory bills targeting transgender youth and LGBTQ+ spaces and culture, last night the Human Rights Campaign (HRC) hosted the Slay Hate: Fight Back Tennessee rally at Nashville's local LGBTQ+ Tribe bar. Tennesseans maxed out the venue's capacity in support of the rally, sending a clear message to Governor Lee that he cannot silence us.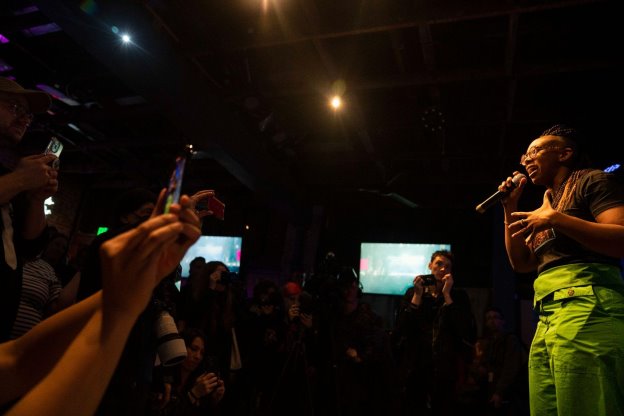 Human Rights Campaign President Kelley Robinson rallies the crowd at Slay Hate: Fight Back Tennessee
The event included performances by singer-songwriter and transgender rights activist Shea Diamond, drag artist Vanity, and drag artist Perplexity, in addition to remarks by HRC President Kelley Robinson who is marking her 100th day as HRC's leader by taking the fight for LGBTQ+ rights directly to the doorsteps of anti-LGBTQ+ lawmakers, Tennessee Equality Project Executive Director Chris Sanders, ACLU Tennessee Executive Director Kathy Sinback, and National Women's Law Center Director of Federal Reproductive Rights Leila Abolfazli.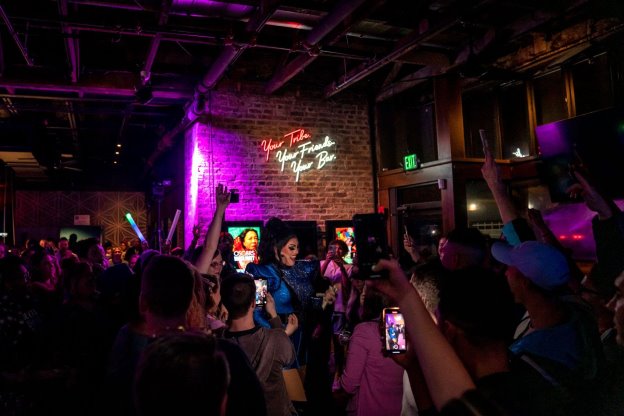 Drag artist Perplexity performs within the crowd at Slay Hate: Fight Back Tennessee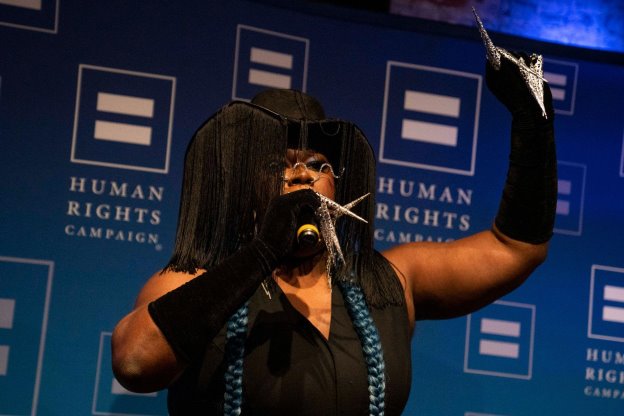 Singer-songwriter and transgender rights activist Shea Diamond performs her song "American Pie"
Last night's rally and HRC's full-page ad in The Tennessean, which features an image of the governor dressed in drag, illuminate both the hypocrisy of the governor's actions and the urgent need for Tennesseans to push back against the continued legislative assault on LGBTQ+ people.

Drag artist Vanity performs at Slay Hate: Fight Back Tennessee
Last week Governor Bill Lee not only signed a bill that will prevent transgender youth from accessing age-appropriate, best practice medical care, but he also signed the nation's first ban on some drag performances in one of our country's legendary music capitals - restricting artists' freedom of expression and ability to entertain and perform.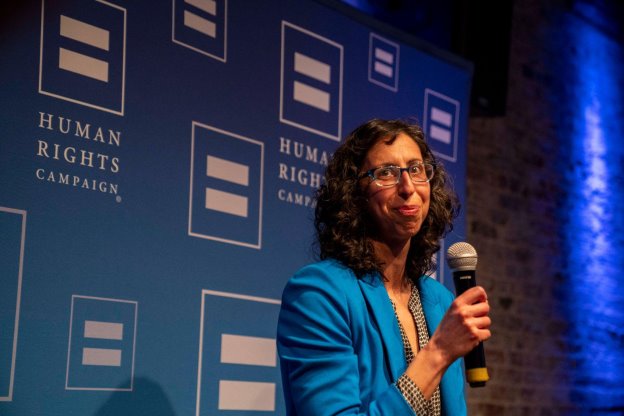 National Women's Law Center Director of Federal Reproductive Rights Leila Abolfazli speaks during rally
Since 2015, Tennessee has enacted 14 anti-LGBTQ+ laws, more than any other state in the country. It has passed novel legislation, like the business bathroom sign law and the drag ban, and been part of every trend in anti-LGBTQ legislation in recent years: Tennessee has banned transgender students from playing school sports three times; forbidden transgender students from using the correct bathroom at school; allowed government contractors providing child welfare services to discriminate with taxpayer dollars; regulated the ability of transgender youth to access age-appropriate gender affirming care, and several others.
And, this is just the start in Tennessee with two additional anti-LGBTQ+ bills advancing through the House this week, and many more still making their way through committee. So far in 2023, HRC is tracking more than 400 anti-LGBTQ+ bills in statehouses across the country, including 30 anti-drag performance bills. 175 of these bills would specifically restrict the rights of transgender people, the highest number of bills targeting transgender people in a single year to date.
The Human Rights Campaign is America's largest civil rights organization working to achieve equality for lesbian, gay, bisexual, transgender and queer people. HRC envisions a world where LGBTQ people are embraced as full members of society at home, at work and in every community.