"School of Rock" star Brian Falduto embraces his queerness through country music in new video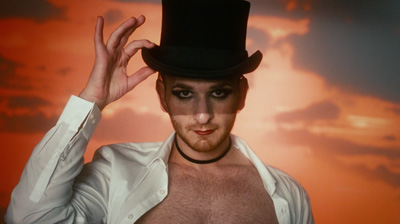 "Falduto takes something obvious and pulls it apart in a way that's both tongue-in-cheek-amusing and disarmingly honest." - Country Queer
MARCH 9, 2023 (NEW YORK, NY) - Known for his iconic line "you're tacky and I hate you" in the cult hit classic, School of Rock, former child star turned rising queer country artist Brian Falduto has released the music video for "Same Old Country Love Song." Filled with references to Shania Twain, Faith Hill, Carrie Underwood and more, the single received TikTok love from School of Rock co-star Jack Black (1.3M views), and influencer Tate Hoskins (1.5M views).
"Same Old Country Love Song" is the lead single from Gay Country-Falduto's 8-track debut album (out March 10) where he honors the classic 90s/early 2000s sounds of country music that's long been missing. Co-written by Falduto and recorded in Nashville, Gay Country is an anthemic, playful and heartfelt albumthat further cements Falduto as a queer country artist that deserves your attention.
Brian says, "I really stepped out of my comfort zone with this. I think it's a testament to how much I've grown as I finally let myself step into this playful artistic space. I remember I used to feel silly saying that country queens like Shania Twain, Dolly Parton, and Carrie Underwood were my influences because I didn't think that was an answer I should give as a boy. But I don't care anymore. They are my influences. If someone wants to call me the gay Shania Twain, I wouldn't be mad about it!"
Brian has come a long way. While the success of School of Rock was an incredible experience, Brian was labeled as "the gay kid" at a time when he was still figuring out his sexuality at a young age. He opened up about his coming out struggles in 2018 with a self-penned essay in The Advocate. Now, as an indie musician, Brian has transformed into the bonafide country star he always dreamed he would be.
Brian says, "Country music has always been my heart and soul, ever since I was a little kid. I'm really proud of what I've done here with Gay Country. I am loving all the new and exciting sounds that are out there these days, particularly much of what's coming from emerging queer artists who are pushing the envelope. But with this project, I wanted to return to the classic 90's / early 2000's vibe that 'little me' used to bop around to but could never quite see himself in. I've always wondered what it would have been like if smack dab in the middle of the latest Tim McGraw and Jo Dee Messina hits, a song came on the radio that normalized who I was. I hope 'Gay Country' provides some joy, some laughter, and some sense of belonging to those who need it most. If nothing else, it's certainly done so for the little kid inside of me."
Brian established himself as a passionate singer-songwriter and recording artist in 2020 with the release of "God Loves Me Too," a song and music video offering the love and acceptance to queer youth of faith that he never felt he got when he was growing up gay in church. The song was chosen as the Loud & Proud feature on Apple Country's Proud Radio, took home the "Fan Favorite" award at The 2020 International Independent Music Video Awards, and garnered support from The Trevor Project, GLAAD, Beloved Arise, and more LGBTQIA+ organizations.
Brian says, "Even as recently as four years ago, I was really unclear about my identity as an artist in the country lane. I knew that I would never deny being gay for the sake of being a successful country music artist but I simultaneously felt as though I had to be careful how I presented myself. How much of my queerness would be acceptable amongst the audience I'm trying to reach? I found familiarity in navigating what might be too much or too little because that's what I used to do when I was younger to survive. Thanks to continual internal work and the external influence of trailblazers like Kacey Musgraves, Orville Peck, Lil Nas X, TJ Osbourne, Brandi Carlile and Ty Herndon, I now know what's possible in this genre--and in life-- when you put the rule book down for a minute and dare to be yourself boldly. I refuse to play a game I wasn't picked for or follow a formula that wasn't built for me."
From overcoming the challenges of child star fame to rediscovering himself as an adult, Brian is excited to continue achieving country accolades with love, passion and empathy. He says, "I think this album is a testament to who I am now in that I was able to let myself just have fun with it because I'm finally grounded in who I am. There is an undeniable fulfillment I get from telling my stories through song. I hope 'Gay Country' can offer a space for fellow queer country fans to connect with themselves .. & each other!"