Registration for 7th Annual CommUNITY Rainbow Run Benefiting onePULSE Foundation is Now Open
4.9K Virtual Run also Available for Runners Around the World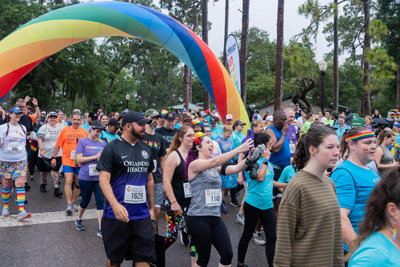 ORLANDO, FL - March 7, 2023 -Registration is now open for the Seventh Annual CommUNITY Rainbow Run & CommUNITY Festival benefiting onePULSE Foundation. Scheduled for Saturday, June 3 at 8 a.m., the 4.9K run honors the 49 people killed in the Pulse nightclub tragedy, survivors and first responders, and is presented by Orlando Health and Hard Rock International in partnership with the UCF DeVos Sport Business Management Program.
In addition to the 4.9K run, which begins and ends at Wadeview Park in downtown Orlando (2177 South Summerlin Avenue), the event also includes a Kids Fun Run around Wadeview Park and a virtual option for runners globally to join the event by participating from any location. In years past, runners from every U.S. state and 15 countries and territories participated in the virtual run.
On the day of the run, the NASCAR CommUNITY Festival will be open from 7 a.m. to 10:30 a.m. at Wadeview Park. Admission is free, and the festival is open to everyone including runners and spectators alike to enjoy live entertainment, food and family-friendly activities. Event vendor booths (10X10) are available for purchase. Please contact events@onepulsefoundation.org for more information.
Launched in 2017 by students at UCF, the CommUNITY Rainbow Run has increased from 800 runners in its inaugural year to more than 3,000 in 2022. The course includes a "Remembrance Journey" guiding runners past the Pulse Interim Memorial along the 0.6-mile route victims took from Pulse to the Orlando Health Trauma Center in the early morning hours of June 12, 2016.
This year's CommUNITY Rainbow Run kicks off the Seven-Year Pulse Remembrance Week, which concludes on Monday, June 12 with the Annual Remembrance Ceremony at 7 p.m. at the Pulse Interim Memorial. The theme for the week is Strength. A calendar of daily events and remembrances will be released in May.
Registration for the in-person run is $49. On-site, same day registration is $60. All in-person participants will receive an official run t-shirt, tote bag, runner's bib, and commemorative run medal. Registration for the Kids Fun Run is $5.
Virtual Run registrants will be mailed their official run t-shirt, tote bag, and commemorative run medal in advance of June 4, if registered by May 3, 2023. Registration for the Virtual Run is $54.
In-person run registration and packets will be available for pick-up the day of the run beginning at 7 a.m. at Wadeview Park. Runners are encouraged to register and pick up their packets in advance. Additional packet pickup opportunities will be communicated in the near future.
For those who want to enhance their run experience or who don't want to run, the 26Health Love is Love Lounge Experience is available for $149. It includes unlimited mimosas, Proud Mary's and breakfast food catered from the Hard Rock Café, and the entire run registration packet.
For more information or to register for the 4.9K CommUNITY Rainbow Run, please visit www.communityrainbowrun.com. For sponsorship opportunities, please contact mca@onepulsefoundation.org.
---
About onePULSE Foundation
onePULSE Foundation is the official 501(c)(3) nonprofit incorporated to manage the design and construction of the permanent national memorial and museum dedicated to the PULSE tragedy.
onePULSE's mission is to create and support a memorial that opens hearts, a museum that opens minds, educational programs that open eyes and legacy scholarships that open doors. Its vision is to establish a sanctuary of healing and a beacon of hope by memorializing the lives taken, the lives saved, and all the lives affected by the Pulse nightclub tragedy of June 12, 2016 - ensuring Pulse's legacy of love lives on forever. For more information, visit