Journey To A Trauma Informed Life welcomes new Co-Owner - Angelica Spraggins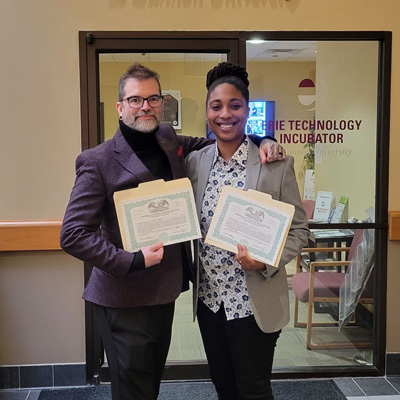 This 3-year old diverse mental health organization celebrated its newest milestone on January 1, 2023 when Angelica Spraggins, MA LPC CRC obtained an equity stake in the business and joined Dr. Koehler as a partner. Spraggins, a graduate of PennWest Edinboro, joined the workforce at Journey to a Trauma Informed Life in February 2022. Speaking of this personal and professional accomplishment, Spraggins said, "My self assigned goal in Erie, since making it my home in 2015, has been to build a safer, more inclusive space to support those communities that need it most. As a clinician, Journey has allowed me to bring this goal to fruition. Now as a co-owner I have the opportunity to renew my commitment to this community. "Journey to a Trauma Informed Life is located at 201 W 11th St, Erie PA.
Spraggins and Dr. Koehler are eager to build upon their existing professional relationship. In regards to having Spraggins join Journey to a Trauma Informed Life as a partner Dr. Koehler said, "Angelica is a valued compliment to Journey's ownership. She brings skills and perspective which only enhance our ability to serve the community. I am overjoyed to have a co-owner again, particularly one who excels where in areas where I am not as strong. I look forward to leveling-up with her on Journey's ownership team."