Buffalo United Artists proudly presents Mediocre Heterosexual Sex March 17-April 8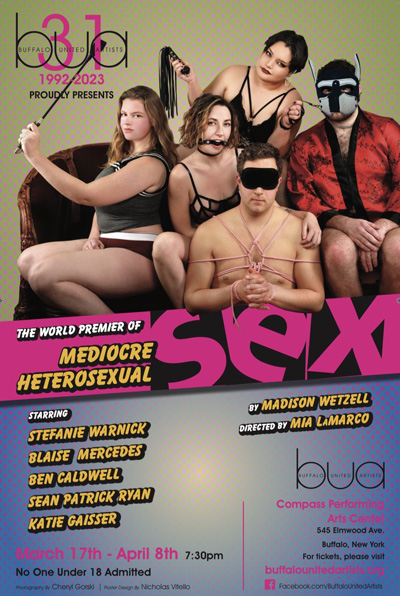 Four hours after her girlfriend dumps her, Erin switches her Tinder setting to dudes because she hates herself. She quickly meets Aaron, who is straight, conveniently nearby, and only too happy to indulge her masochistic fantasies. To translate this deeply ambivalent first heterosexual experience, Erin seeks the advice of the only straight people she knows, Violet and Jeremy, a couple in a Dominant/submissive relationship.
From playwright Madison Wetzell, who is currently pursuing her MFA at Brooklyn College. 'Mediocre Heterosexual Sex' was a 2021 Finalist for the Bay Area Playwrights Festival and a 2021 Semi Finalist for the ONeill Theater Center National Playwrights Conference.
Playwrights Foundation highly recommends 'Mediocre Heterosexual Sex', "This work engaged us, inspired us, moves us, and was an outstanding example of transformative storytelling…a compelling, relevant, cathartic new work which should be produced now."
Continuing with BUA's long standing tradition of bringing original queer plays to the Buffalo stage, the World Premiere of 'Mediocre Heterosexual Sex' is a vexed exploration of GENDER, SEX, POWER and KINK!
Mediocore Heterosexual Sex stars Stefanie Warnick, Blaise Mercedes, Ben Caldwell, Sean Patrick Ryan, and Katie Gaisser, and is directed by Mia LaMarco . The play runs March 17th thru April 8th (Fridays & Saturdays) at 7:30 PM at Compass Performing Arts Center, 545 Elmwood Ave., Buffalo, New York 14222
Tickets are $30.00 general admissionare are available at: www.buffalounitedartists.org or www.brownpapertickets.com/event/5703543 Walk-Up Purchases at the Door: CASH ONLY.
*No One Under 18 Years Old Admitted - Content Warning: Nudity and Simulated Sex*
BUA, now celebrating its 31st anniversary, is a self-supporting collective of professional theater artists working to present provocative and relevant work that examines the gay, lesbian, bisexual, transgender, and queer experience. BUA began performing in January 1992.