Philadelphia Gay News 45th Anniversary
by Mark Segal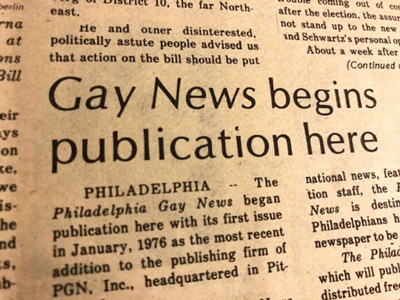 Who would imagine that starting a newspaper for the LGBT community would put you on the KKK hit list? That was only the beginning for PGN. Next came the break in and trashing of our offices, ripping out wiring, destroying the plumbing. Vending boxes destroyed or glued shut. Then there was a court injunction threatened by Keystone Blue Cross. The refusal of journalism organizations to allow us to be members.
None of this frightened us off. It actually made our resolve stronger. It was a fight among those who didn't want us to exist, those who looked down on us, or those who simply wrote us off.
45 years later PGN is the most award-winning LGBT media outlet in the nation. Each of those organizations that had denied us membership in the past have all honored us with awards. We've been named best in the nation among weeklies, not just LGBT weeklies, but all weekly newspapers. That goes as well for Pennsylvania.
While it makes me proud to be at the top of our field, my hope is that our readers appreciate what we actually take pride in, our journalism.
15 years ago we reported on a mysterious death of a black trans woman, and we never stopped investigating. Tim Cwiek's decades-long and still ongoing investigation was pioneering even for LGBT media back then. Victoria Brownworth's breakthrough article on lesbian nuns made her the expert on the field. Having our reporters sleep in a park with homeless LGBT youth was a first.
The LGBT history project spearheaded by PGN enabled us to make real change in American history and solidify the place LGBT people have in it. Our interviews with presidents and governors have helped make LGBT issues part of campaigns and governance. Our journalism made changes in the battle for LGBT people in the military, marriage equality, the fight against HIV/AIDS, dignity for our seniors, and understanding the obstacles our LGBT youth deal with everyday.
There were times we made mistakes, but in 45 years that should be expected, and we've learned from those missteps and used them to become better.
So what has created this crusading newspaper? I give that credit to my grandmother who took me to my first civil rights demonstration when I was 13; to that infamous night in June 1969 at Stonewall and the group that formed from the ashes of Stonewall, Gay Liberation Front. That fire for equality still shines bright in these pages each week.
We started this newspaper when I was 25, Now at 70, the passion for what we do is still growing. And I'm lucky enough to thank the PGN family each week for making me a proud publisher.