Rep. Malcolm Kenyatta announces run for U.S. Senate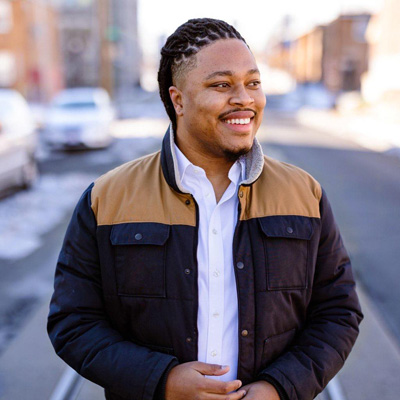 State Rep. Malcolm Kenyatta (D-Philadelphia).
February 18, 2021 11:44 pm - State Rep. Malcolm Kenyatta, the first LGBTQ person of color to serve in the Pennsylvania Assembly, is entering the 2022 race for U.S. Senate. A member of the Pennsylvania House since 2018, Kenyatta made his announcement February 18 on MSNBC. He hopes to win the seat currently occupied by Republican Pat Toomey, who is retiring.
"We're going to build a campaign that lifts up and centers working people with every single thing that we do," Kenyatta told MSNBC host Joy Reid. "All the issues we're talking about, from raising the minimum wage to student loan debt to clean energy and confronting the climate crisis, these issues are not hypothetical for me, they're real, and I think that authenticity is going to matter because this is what Pennsylvanians are dealing with all across the commonwealth."
Kenyatta, whose impassioned speeches on the floor of the Pennsylvania House became rallying cries for Democratic voters in the 2020 election, joins what is expected to be a crowded Democratic primary. If elected, he would be the first openly gay male senator in U.S. history, as well as the first Black senator from Pennsylvania. The Philadelphia Gay News spoke with Kenyatta shortly after his announcement.
Why are you the best candidate for the LGBTQ community in Philadelphia?
What we have is a huge opportunity right now to make the promise of America real in our lifetime. Just think about what we've said as a country, these ideas of fairness and justice. That hasn't always been true. I know exactly what it feels like, like so many queer people who, every time the Supreme Court is in session, get that knot in the pit of their stomach about which one of their basic rights is going to be up for debate, and maybe taken away. We have to have people in office that represent the fullness of the American experience. We've never elected an openly gay man to the United States Senate. That is something we fundamentally need to change.
How do you think you being gay has prepared you for this run for Senate?
I know exactly what it feels like to be treated unfairly simply because of who I am and because of who I love. And certainly that's of value to the LGBTQ community, but it's of value to all of our communities. There are so many people who get what that means, people who were born into a certain zip code and thereby don't have a school that's as resourced as another school. That's not fair. There are women who, in 2021, we're having a debate about what medical procedures they're able to have. That's not fair. There are working people who we've lauded as heroes, who then are paid a starvation level wage. That's not fair. And so, I think that when you know what it's like to be treated unfairly, there is a level of empathy that you gain for other people who are treated unfairly, even if the reason is different from your own. So I think it's a benefit for the LGBTQ community to have somebody who has that experience, but it's a benefit for all Pennsylvanians to have somebody who has that type of experience and who has shown over and over again, that they'll be unrelenting and fighting for a country that lifts up all of our families. Every single one.
Your campaign is going to center on things like raising minimum wage, addressing climate change, and helping people get out of poverty. People tend to forget that those are also LGBTQ issues.
Thank you for saying that. Clean air and clear water is an LGBTQ issue. When we talk about healthcare for everybody, we know that health disparities are incredibly pronounced in our community. We know that when talking about raising wages, so many members of our community are struggling economically. Our trans brothers and sisters face incredible barriers to getting employed in the industries they want to go into. Every single one of these issues are about us. We are the one community that represents every race, every gender, every region, every income level, and different faith traditions. Our community is America. But the problem is that promise, that American promise, has been something that has been out of reach for so many of us. And that is what we fundamentally have to change. And when we do that as the LGBTQ community, we do it for all of our communities, because the LGBTQ community is all of our communities.
What members of the LGBTQ community are you most inspired by, and who are you looking to for advice as you undertake this campaign?
You know, former Senator Harris Wofford, he came out after he was in office. But if you look at what he did in his career and what he did after, particularly as it related to public service, with Americorps and all those different things, he's the type of model public servant that I hope to emulate. He passed away, so I won't get to talk to him personally, but his focus on service resonates with me. You know the first thing I ever did politically was become a junior block captain. With Harris Wofford, that commitment to service is something that resonates with me and something that I think about.
I also think about all the Black and Brown trans folks who helped start the modern LGBTQ movement, and the bravery that it took at Stonewall and at other demonstrations. The courage it took when people were forming Gay Liberation Front, and who were at Stonewall in that moment or at the marches right after, the bravery that took, the guts… People have asked how scary this is for me to do, and it's not nearly as scary as it must have been to fight back against folks who were coming in to bust up Stonewall that night, or bust up other protests, or bust up ACT UP demonstrations. What I fundamentally believe is that bravery begets bravery and I'm inspired by all the bravery that has existed from then until now in our community.
So many people who I look up to are part of this movement. I've gotten to know Pete [Buttigieg], and what he's done just being who he is and breaking the barriers that he's broken over his campaign and now as Secretary of Transportation is certainly inspiring. And the last person I'll say is Secretary Levine, who will be a huge loss for Pennsylvania, but will be making history as the first trans person ever approved by the United States Senate. All of those folks inspire me. Not to mention folks like Wanda Sykes who I've gotten to know, who was the first Black queer person I ever saw on TV. I was like "Oh my god, I can be gay and on TV?" She was the first person I ever saw who was just living her authentic life in the open. And to now be able to know her and be able to talk to her is bonkers to me.
Will you be doing a Barack Obama-style campaign, going after every single vote in every single county?
Oh, absolutely yes. We owe it to the people of Pennsylvania to break down this tired narrative that what's happening in Philly is so disconnected from what's happening in Erie, so disconnected from what's happening in Scranton and what's happening in Greene County. That's not true. When I went around the commonwealth for the Flip PA Tour, I found that all of the issues that people in my district were talking about and concerned about were the same issues that people were concerned about in other parts of the state.
You know how often we have pitted parts of the state against other parts of the state so somebody could win a campaign. I'll leave it to political experts to talk about how that benefits a campaign, but it's a bad way to govern. Because if you don't have high quality healthcare in an urban community or you don't have it in a rural community, either way, you don't have it. What we need to do is focus on fixing what's broken, not hanging on to these regional alliances that have not served us in terms of addressing these systemic issues. So I'm focused on bringing Pennsylvania together around the shared concerns that working people have.
What does it feel like to go on this very public, national political journey with your fiancé, Dr. Matthew Miller?
It is a reminder to me, that answering Matt's [direct message] on Instagram, that was the best decision I've ever made. Because he is smarter than me, he is incredibly beautiful, and he is somebody who understands in his bones as well, the issues that I'm fighting about, fighting for, and the issues that I care about. And to have somebody like that as my partner in this journey, means the world.