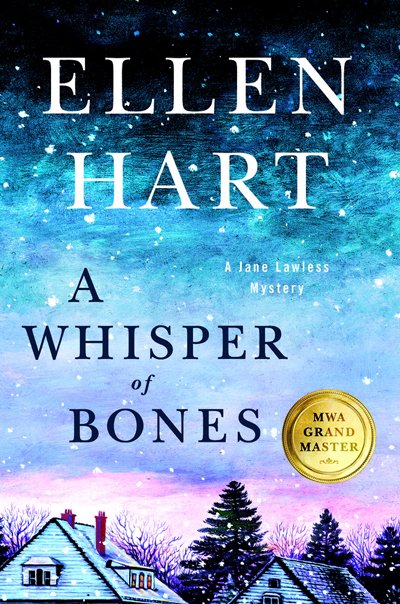 Win A Whisper of Bones by Ellen Hart! To enter the contest, fill out the form below between Friday, February 23 and Friday, March 16.
Praise for Award-Winning Author ELLEN HART and the Jane Lawless Series
"Another engrossing, well-plotted mystery. Hart does a good job here dropping enticing bread crumbs for the reader to follow all the way to the explosive ending. The camaraderie between the fantastic characters is fun and almost as interesting as the mystery, especially when fan favorite Cordelia makes an appearance. Another great mystery from Hart!"
– RT Book ReviewsonFEVER IN THE DARK
"Another wonderfully plotted and impeccably written page-turner… Everything you've come to expect from Hart-arguably one of the best lesbian mystery writers out there-is in this book, including Lawless's requisite bruised ribs and concussion and a mystery that keeps you guessing." – The Advocate on GRAVE SOUL
A good mystery engages our moral imaginations. Hart always has done this well through the diverse mix of gay and non-gay characters that populate her fictional world and the meaningful contemporary themes they confront. TAKEN BY THE WIND is no exception, hooking me from its opening pages…An engrossing mystery with captivating characters you should meet.
– Minneapolis Star-Tribune
A solidly plotted, multi-faceted mystery with…many fascinating characters-loyal, deceitful, quirky and intense…But through it all, Jane is a caring, endearing woman, who will go to any and all lengths to solve a problem, whether it be personal or, now that she's in the business of private investigation, professional.
– Mysterious Reviewson REST FOR THE WICKED
Author Ellen Hart's prolific Jane Lawless series was recognized last year when she was awarded Grand Master at the 2017 Edgar Awards. Hart delivers yet again with her next book in the series, A WHISPER OF BONES (Minotaur Books; on sale February 27, 2018; $25.99).
Britt Ickles doesn't remember much from her only visit to her mother's childhood home when she was a kid, except for playing with her cousin Timmy and the eruption of a sudden family feud. That's why, when she drops by unannounced after years of silence, she's shocked when her aunts tell her Timmy never existed, that she must be confusing him with someone else. But Britt can't shake the feeling that Timmy did exist…and that something horrible has happened to him. Something her aunts want to cover up.
Britt hires Jane Lawless, hoping the private investigator can figure out what really happened to her cousin. When a fire in the family's garage leads to the discovery of buried bones and one of the aunts dies suddenly and suspiciously, Jane can't help but be pulled into the case. Do the bones belong to Timmy? Was the aunt's death an accident, suicide, or homicide? What dark secret has this family been hiding for decades?
ELLEN HART, "a top novelist in the cultishly popular gay mystery genre" (Entertainment Weekly) and MWA Grand Master, is also a Lambda and Minnesota Book Award winner. The author of twenty previous mysteries featuring Jane Lawless, she lives in Minneapolis, Minnesota.
This contest expired on Friday, Mar 16, 2018. Click here for other contests to enter.