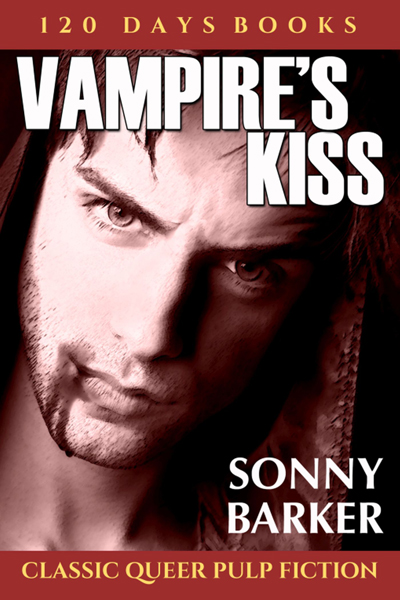 Enter to win Vampire's Kiss e-book from Riverdale Avenue Books! To enter the contest, fill out the form below between Tuesday, January 30 and Tuesday, February 20.
About Vampire's Kiss
First published in 1970, the gay pulp classic Vampire's Kiss, follows the transformation of Damon Sanger from an ambitious, married attorney to a gay vampire whose bodily libation of choice isn't blood.
During a restless night of solo barhopping, Damon accidentally wanders into The Cave, a gay nigthclub, and drunkenly goes home with hypnotic, handsome and red-lipped seducer Alan Drake. Alan makes short work of Damon's conviction that he's straight as an arrow, and Alan isn't just gay; he's also a vampire. Or is he? Damon can't decide whether his trysts with Alan have simply opened his eyes to his true desires, or whether he's under the influence of a supernatural fiend whose wildly exciting influence has inducted him into the ranks of the homosexual undead, doomed to roam the earth and convert other men.
Written with a light hand and a sly sense of humor, Vampire's Kiss follows Damon as he negotiates his secret life while pretending to be the ordinary suburban husband who enjoyed boozy barbecues with the neighbors and admiring curvaceous women. As Damon learns how to satisfy his new appetites and maintain his sanity, he conducts an ongoing, tongue-in-cheek examination of himself-he is a lawyer, after all-about everything from the morality of recruiting new vampires to whether he really has to give up the garlic he's always loved.
About 120 Days
120 Days is an imprint of Magnus Books/Riverdale Avenue Books dedicated to reprinting classic erotica, especially the LGBT titles of the 20th century. These vintage gay erotic novels, many written by novelists unable to find other outlets for fiction about gay men and women, peaked between 1968 and 1982. As censorship laws were struck down across the US, the best of these writers continued to turn out well-plotted genre novels--spy thrillers, science-fiction tales, mysteries, swashbuckling adventures, gothic romances and even pre-"Brokeback Mountain" westerns--within whose conventions they were able to explore the full range of their characters' lives. Surprisingly modern with just a dash of retro appeal these largely-forgotten novels are both great, fun reads and a bracing reminder that times change but people don't.
Downloads of this book are available at RiverdaleAveBooks.com and also at Amazon, Barnes & Nobles Nook, iTunes, Kobo and where digital and print books are sold.
About Riverdale Avenue Books
Riverdale Avenue Books is an award-winning, innovative hybrid publisher at the leading edge of the changes in the publishing industry. We publish e-books, print, and audio books under 12 imprints: Desire, an erotica/erotic romance imprint; Riverdale/Magnus the award-winning imprint of LGBT titles; Pop featuring pop culture titles; Afraid, a horror line; SFF, a science fiction fantasy line; Truth, an erotic memoir line; Dagger, a mystery thriller imprint; Sports and Gaming featuring sports and gaming titles; VerVe featuring lifestyle titles; Hera featuring both the true and fictional lives and loves of women aged 35 and up, and 120 Days dedicated to reprinting classic erotica, especially the LGBT titles of the 20th century. Started in 2012 by industry veteran Lori Perkins, Riverdale is a full-service publisher, with a foreign rights and film agency department. Visit us atwww.RiverdaleAveBooks.com.
This contest expired on Tuesday, Feb 20, 2018. Click here for other contests to enter.