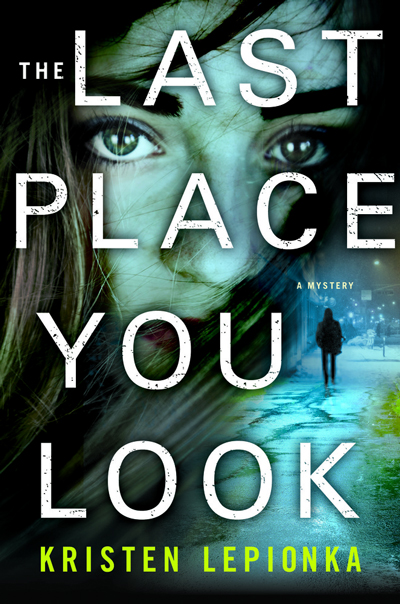 Win The Last Place You Look by Kristen Lepionka! To enter the contest, fill out the form below between Friday, February 18 and Friday, March 9.
Advanced Praise for The Last Place You Look by Kristen Lepionka
"The Last Place You Look riffs off Raymond Chandler and Mickey Spillane but finds a way to make detective fiction relevant again, in 2017. I have never read a more confident debut."
-James Renner, author of True Crime Addict and The Man From Primrose Lane
"In The Last Place You Look, a talented new voice in crime fiction gives us the seedier side of a Midwestern community-and a character worth following anywhere she trespasses. A wonderful debut."
-Lori Rader-Day, Mary Higgins Clark Award & Anthony Award-winning author of Little Pretty Things
"The Last Place You Look is a sharp, timely, and assured debut. Lepionka's got a real knack for character. Her protagonist, private eye Roxane Weary, manages to honor her literary predecessors while still crackling with originality and life."-Chris Holm, Anthony Award-winning author of The Killing Kind
Kristen Lepionka has lent her expertise to the dark side of writing as mentor for the Pitch Warswriting competition. This knowledge of writing shines through in the first of her exciting new series, THE LAST PLACE YOU LOOK (June 13, 2017, ISBN: 9781250120519). Lepoinka has crafted a mystery that is a head-on collision between an allegedly closed case and a tenacious, troubled private investigator who doesn't know when to quit.
Nobody knows what happened to Sarah Cook. The beautiful blonde teenager disappeared fifteen years ago, the same night her parents were brutally murdered in their suburban Ohio home. Her boyfriend Brad Stockton-black and from the wrong side of the tracks-was convicted of the murders and is now on death row. Though he's maintained his innocence all along, the clock is running out. His execution is only weeks away when his devoted sister insists she spied Sarah at an area gas station. Willing to try anything, she hires PI Roxane Weary to look at the case and see if she can locate Sarah.
Brad might be in a bad way, but private investigator Roxane Weary isn't doing so hot herself. Still reeling from the recent death of her cop father in the line of duty, her main way of dealing with her grief has been working as little and drinking as much as possible. But Roxane finds herself drawn in to the story of Sarah's vanishing act, especially when she links the disappearance to one of her father's unsolved murder cases involving another teen girl.
The stakes get higher as Roxane discovers that the two girls may not be the only teenagers who've turned up missing or dead. As her investigation gets darker and darker, Roxane will have to risk everything to find the truth. Lives depend on her cracking this case-hers included.
KRISTEN LEPIONKA grew up mostly in her local public library, where she could be found with a big stack of adult mysteries before she was out of middle school. Her writing has been selected for McSweeney's Internet Tendency, Grift, and Black Elephant. She is also the editor of Betty Fedora, a journal that publishes feminist crime fiction and lives in Columbus, Ohio, with her partner and two cats.
Enter the Contest!
Please note that only 1 entry is allowed per person. Contests are open to US residents only.