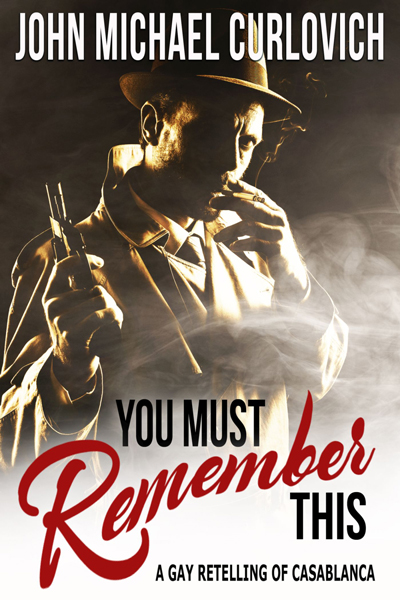 Enter to win You Must Remember This e-book from Riverdale Ave Books! To enter the contest, fill out the form below between Tuesday, December 26 and Tuesday, January 16.
"You Must Remember This" A Gay Retelling of the Classic Retelling Casablanca's American Released by Riverdale Avenue Books for the 75th Anniversary of Movie
New York, NY – November 13, 2017 – In honor of the 75th anniversary of the movie classic Casablanca's release, the award-winning hybrid publisher, Riverdale Avenue Books is releasing You Must Remember This by John Michael Curlovich, a gay retelling of Casablanca.
In this retelling of the WW II love story, the author supposes that the nightclub owner, Frank, and his close friend the jazz singer, Dan, were lovers in the military, which brought them to Morroco. But Frank fell in love with a woman when they were in Paris, and she failed to follow him to Morocco, until the novel opens. You Must Remember This asks the reader to wonder if Frank will end up with Dan or Lilli or even the handsome French Prefect of Police.
"From the very first time I saw Casablanca I knew it was something special, a pitch-perfect blend of script, direction, acting, design and cinematography. But there was something else, something that spoke to me on an intimate level," said author John Michael Curlovich. "I had learned very early to decode the signals that directors and screenwriters used to suggest gayness without ever being explicit about it."
"I had read an earlier version of this novel years ago, and I just loved it," said Publisher Lori Perkins added. "I wanted to bring it back to publication for this important anniversary."
Downloads of this book are available at RiverdaleAveBooks.com and also at Amazon, Barnes & Nobles Nook, iTunes, Kobo and where digital and print books are sold.
About Riverdale Avenue Books
Riverdale Avenue Books is an award-winning, innovative hybrid publisher at the leading edge of the changes in the publishing industry. We publish e-books, print, and audio books under 11 imprints: Desire, an erotica/erotic romance imprint; Riverdale/Magnus the award-winning imprint of LGBT titles; Pop featuring pop culture titles; Afraid, a horror line; SFF, a science fiction fantasy line; Truth, an erotic memoir line; Dagger, a mystery thriller imprint; Sports and Gaming featuring sports and gaming titles; VerVe featuring lifestyle titles; and Hera featuring both the true and fictional lives and loves of women aged 35 and up. Started in 2012 by industry veteran Lori Perkins, Riverdale is a full-service publisher, with a foreign rights and film agency department. Visit us at www.RiverdaleAveBooks.com.
This contest expired on Tuesday, Jan 16, 2018. Click here for other contests to enter.