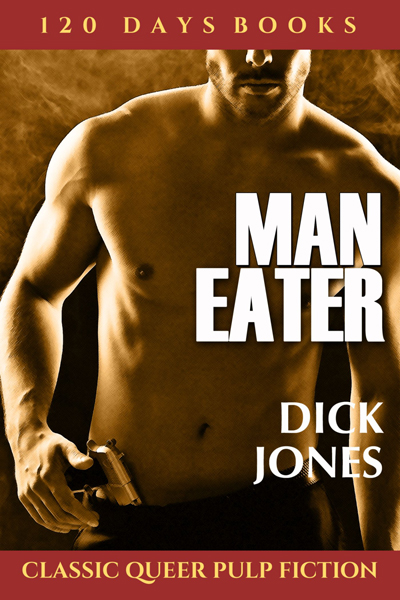 Enter to win Man Eater e-book from Riverdale Ave Books! To enter the contest, fill out the form below between Tuesday, January 9 and Tuesday, January 30.
Leading LGBT Publisher, Riverdale Avenue Books Launches 120 Days Imprint, Reprinting Classic Gay Erotica
Man Eater will be the First Book of the Imprint -
New York, NY: November 30, 2017 – The innovative hybrid publisher, Riverdale Avenue Books is launching 120 Days, a new imprint. The first book of the new imprint will be Man Eater, a 70's gay pulp classic that follows a Vietnam vet turned detective who makes it his personal mission to find the deadly serial killer of gay men.
120 Days is an imprint of Magnus Books/Riverdale Avenue Books dedicated to reprinting classic erotica, especially the LGBT titles of the 20th century. These vintage gay erotic novels, many written by novelists unable to find other outlets for fiction about gay men and women, peaked between 1968 and 1982. As censorship laws were struck down across the US, the best of these writers continued to turn out well-plotted genre novels--spy thrillers, science-fiction tales, mysteries, swashbuckling adventures, gothic romances and even pre-"Brokeback Mountain" westerns--within whose conventions they were able to explore the full range of their characters' lives. Surprisingly modern with just a dash of retro appeal these largely-forgotten novels are both great, fun reads and a bracing reminder that times change but people don't.
120 Days founder Maitland McDonagh explained how the line came about. "I was drawn to gay adult novels of the 1970s by their teasing covers, but stayed for the books between them. They contained a world of entertaining and often slyly subversive thrillers, horror stories, coming-of-age tales and more, filled with characters who bucked demeaning stereotypes and followed their own dreams and desires wherever they led. I'm excited that Riverdale Avenue Books is bringing this queer pulp fiction to a wider audience: They're dispatches from the front lines of how we got here from there, and too much fun to remain hidden."
Said Riverdale Avenue Books Publisher Lori Perkins, "We are thrilled to be able to bring these 'lost' stories to publication in the 21st century to an audience that might not be aware of their existance and place in LGBT and publishing history. Maitland has rediscovered some really unique and creative works."
The next book in the 120 Days imprint will be Vampire's Kiss.
Downloads of this book are available at RiverdaleAveBooks.com and also at Amazon, Barnes & Nobles Nook, iTunes, Kobo and where digital and print books are sold.
About Riverdale Avenue Books
Riverdale Avenue Books is an award-winning, innovative hybrid publisher at the leading edge of the changes in the publishing industry. We publish e-books, print, and audio books under 12 imprints: Desire, an erotica/erotic romance imprint; Riverdale/Magnus the award-winning imprint of LGBT titles; Pop featuring pop culture titles; Afraid, a horror line; SFF, a science fiction fantasy line; Truth, an erotic memoir line; Dagger, a mystery thriller imprint; Sports and Gaming featuring sports and gaming titles; VerVe featuring lifestyle titles; Hera featuring both the true and fictional lives and loves of women aged 35 and up, and 120 Days dedicated to reprinting classic erotica, especially the LGBT titles of the 20th century. Started in 2012 by industry veteran Lori Perkins, Riverdale is a full-service publisher, with a foreign rights and film agency department. Visit us atwww.RiverdaleAveBooks.com.
Enter the Contest!
Please note that only 1 entry is allowed per person. Contests are open to US residents only.