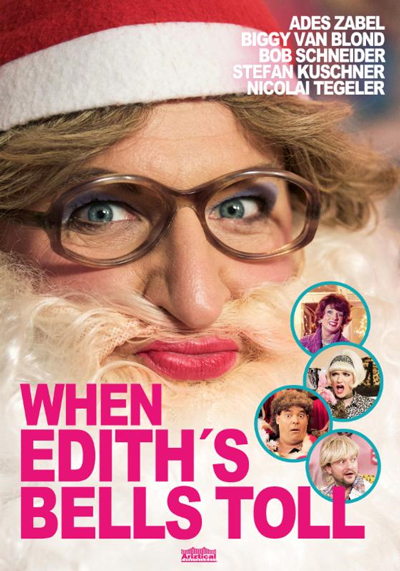 Enter to win a digital download of When Edith's Bells Toll from Ariztical Entertainment.To enter the contest, fill out the form below between Friday, November 10 and Friday, December 1.
This Christmas is a DRAG!
A new narrative Drag Comedy based on the HIT German musical!
WINNER! Best LGBT Film Great Lakes International Film Festival
Edith loves to grumble throughout the most festive time of year - Christmas. So, Edith's best friends, Biggy and Jutta, manage to persuade her to spend a cozy South Berlin Christmas Eve together in this "drag-tastic" holiday comedy.
A roast goose from the gas station, a cheap sour red wine, a red cabbage in a most beautiful white color and an unidentifiable brown sauce...the dinner is a disaster! Edith tries to remain positive even after Jutta decides to replace her small Christmas tree with her big "artsy" white tree. And Biggy, the leopard dressed blonde, gets a surprise visit from her mother and daughter and ends up being forced to have her daughter spend Christmas Eve with her.
Even though this holy night doesn't seem to have a chance for being cozy and relaxed, the friends manage the chaotic circumstances and wind up celebrating a slightly different Christmas.
Genre: Comedy, Drag, LGBT
Country: Germany
Language: German with English Subtitles
Running Time: 100 minutes
Directed By: Ades Abel
Cast: Ades Zabel, Biggy van Blond, Bob Schneider, Stefan Kuschner, Nicolai Tegeler
This contest expired on Friday, Dec 01, 2017. Click here for other contests to enter.