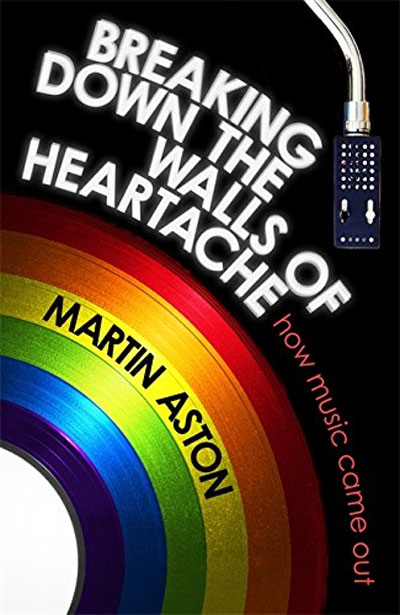 Enter to win Breaking Down the Walls of Heartache: How Music Came Out by Martin Ashton from Backbeat Books! To enter the contest, fill out the form below between Tuesday, October 24 and Tuesday, November 14.
Popular music's queer DNA is inarguable, from Little Richard's "Tutti Frutti" to David Bowie's Ziggy Stardust, from cross-dressing Kurt Cobain to "female Elvis" k.d. lang. Regardless, gay and lesbian performers have preferred the safety of the closet for generations, mainly due to the tenuous legal status of homosexuality and the rife homophobia that lives on in spite of the victories of Gay Liberation. Only in 2014 did an 'out' gay pop star, Sam Smith, top the US chart. Bearing this in mind, it comes as no surprise that there has never been a comprehensive general history of LGBTQ+ personalities and influences in and around popular music until now. Martin Aston's Breaking Down the Walls of Heartache: How Music Came Out is the first book to convey the protracted and, at times, torturous tale of popular music's queer past, present, and future. Aston's book offers a definitive social and musical history spanning 100 years, starting in the British music halls and Harlem blues clubs of the early 20th century and continuing through the noughties of the 21st, and replete with insights on best-known stars and hidden pioneers alike. An exceptional first salvo in what's destined to be a field of inquiry for generations, Breaking Down the Walls of Heartache deserves a place of honor on library shelves, nightstands, and coffee tables perused by music fans of every gender and persuasion. Although there have been essay collections, magazine articles, and other media blips that touch on its LGBTQ+ roots, Breaking Down the Walls of Heartache is the first chronological narrative that presents music's coming-out story against a detailed backdrop of social and political change. At 540 pages, it's certainly the most comprehensive work on the subject to date. Aston's sources include over ninety original interviews and an archive of other materials accumulated over his twenty-plus year career as a music commentator and journalist focused on LGBTQ+ life and culture; the book also features a full sixteen pages of photographs. And, unlike all other studies of LGBQT+ music culture currently available, this account gives as much attention to women as it does men. Moreover, many of the first performers to defy the laws and morals of their time have never been documented in print. Now, for the first time ever, Aston shares the stories of a 1950s lesbian rockabilly trio, a 1960s gay soul siren, the first gay country band, the only true gay glam rockers and punk rockers, the pioneering queer rappers, and the first trans musicians. His account concludes with the omnipresence of LGBTQ+ performers across all genres, but also regards with a wary eye the present status of LGBTQ+ persons in Russia and Africa, where the long, hard journey to personal freedom (and freedom of expression) is far from over.
MARTIN ASTON has written about popular music for over thirty years. He has contributed to numerous publications, including MOJO, Q, The Guardian, The Times (London), Attitude, Radio Times, Spin, BBC Music and The Vinyl Factory. He has also written about TV, film, and LGBT+ culture. His previous book, Facing The Other Way: The Story of 4AD, was a Music Book of 2013 in NME, Times Literary Supplement, Spin, Daily Telegraph, and Rough Trade Shops. He lives in south London.
This contest expired on Tuesday, Nov 14, 2017. Click here for other contests to enter.