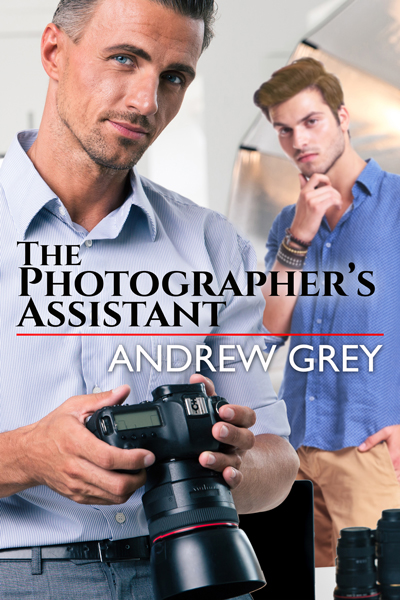 Enter to win a digital download of The Photographer's Assistant by Andrew Grey from Riverdale Ave Books! To enter the contest, fill out the form below between Friday, August 25 and Friday, September 15.
Christian Coulliet is the premier gay erotic photographer in the country. His pictures are spectacular because he will go to whatever length he needs to get the photographs he wants, including having sex with his models. He's famous for capturing images of his models at the absolute height of passion.
David Weatherby is Christian's assistant, organized and efficient. He considers himself plain and ordinary, unlike the models Christian works with. David's also attracted to Christian in a big way, but has seen Christian brush off so many men, and he doesn't want to be another notch on Christian's photographic bedpost. Besides, Christian wouldn't notice someone as plain as him anyway.
What David doesn't realize is that Christian has noticed and watches, but stays away because David works for him, and because he feels that David deserves someone better. With both men reluctant for various reasons to voice or act on their feelings, will they ever be within the same frame?
About Andrew Grey
Andrew Grey is the only male author to receive the Romance Writers of America Centennial Award, for having published 100 novels, and the only M/M author to do so.
He grew up in western Michigan with a father who loved to tell stories and a mother who loved to read them. Since then he has lived throughout the country and traveled throughout the world. He has a master's degree from the University of Wisconsin-Milwaukee and works in information systems for a large corporation. Andrew's hobbies include collecting antiques, gardening, and leaving his dirty dishes anywhere but in the sink (particularly when writing). He considers himself blessed with an accepting family, fantastic friends, and the world's most supportive and loving partner. Andrew currently lives in beautiful, historic Carlisle, Pennsylvania. Please check out his website for updates andrewgreybooks.com
About Riverdale Avenue Books
Riverdale Avenue Books is an award winning, innovative hybrid publisher at the leading edge of the changes in the publishing industry. We publish e-books, print, and audio books under 11 imprints: Desire, an erotica/erotic romance imprint; Riverdale/Magnus the award-winning imprint of LGBT titles; Pop featuring pop culture titles; Afraid, a horror line; SFF, a science fiction fantasy line; Truth, an erotic memoir line; Dagger, a mystery thriller imprint; Sports and Gaming featuring sports and gaming titles; Verve featuring lifestyle titles; and Hera featuring both the true and fictional lives and loves of women aged 35 and up. Started in 2012 by industry veteran Lori Perkins, Riverdale is a full service publisher, with a foreign rights and film agency department. Visit us at www.RiverdaleAveBooks.com.
This contest expired on Friday, Sep 15, 2017. Click here for other contests to enter.