Enter to win One of These Things First by Steven Gaines!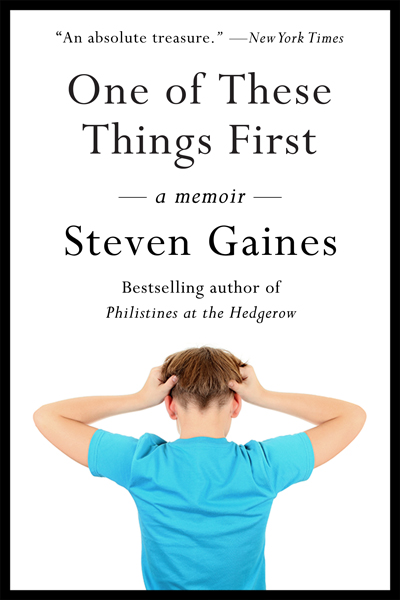 Enter to win One of These Things First by Steven Gaines! To enter the contest, fill out the form below between Tuesday, September 5 and Tuesday, September 26.
Praise for One of These Things First
"By turns comic, honest and riveting." – Publishers Weekly
"A candid, entertaining memoir…A spirited narrative of a hard-won coming-of-age." – Kirkus Reviews
"…an absolute treasure." – New York Times
"An extraordinary book. Incredibly moving and beautifully written." – Jay McInerney
"Touching, funny and poignantly sad." – Associated Press
"Humane and generous…Shocking, funny, and sometimes shockingly funny. A real treasure." – Boston Globe
"A poignant and funny book that proves that it does get better." – Joy Behar
"Steven Gaines has turned his considerable journalistic talents onto his younger self, writing a lyrical, wry and precisely excavated book which zaps you back to that moment when you first wonder, 'Is this really who I am?'"
– Carl Swanson, New York Magazine
"This is a great book, witty, touching and beautifully written with a colorful cast of characters." – Christie Brinkley
One Of These Things First
A Memoir
By Steven Gaines
Conversion therapy, Broadway dreams, suicidal thoughts and a stint in a fashionable psychiatric clinic all play a part in this moving and funny memoir, ONE OF THESE THINGS FIRST (Delphinium Books; September 5, 2017) by bestselling author Steven Gaines.
The book follows the story of Gaines as a 15-year-old boy in 1960's Brooklyn and his trajectory from his grandparent's bra and girdle store to, after a failed suicide attempt, a private room in one of the most exclusive psychiatric hospitals in the world. Here he meets a brilliant young psychiatrist who promises to cure him of his homosexuality and provide him with the normalcy he longs for. At the hospital he also meets a Broadway producer, the husband of superstar Mary Martin, who opens a new world for him, an editor who claims she was President John F. Kennedy's lover and other eccentric, wealthy neurotics, who make him feel like "Eliza Doolittle at the psycho country club."
Now a journalist, novelist and biographer who has chronicled some of the 20th century's most notable artists such as the Beatles and fashion designer Halston, takes a wry look back at his early years and coming out in Brooklyn.
STEVEN GAINES is the bestselling author of Philistines at the Hedgerow: Passion and Property in the Hamptons; The Sky's the Limit: Passion and Property in Manhattan; The Love You Make: An Insider's Story of the Beatles; and Simply Halston, the biography of the fashion design, among other books. His journalism has appeared in Vanity Fair, the New York Observer, the New York Times and New York magazine where he was a contributing editor for 12 years. The co-founder and past vice-chairman of the Hamptons International Film Festival, Gaines has lived on the east end of Long Island for more than 40 years.
ONE OF THESE THINGS FIRST
A Memoir
By Steven Gaines
Delphinium Books: September 5, 2017
$14.95 Trade Paperback: 196 pages
ISBN: 978-1-88-328571-5
This contest expired on Tuesday, Sep 26, 2017. Click here for other contests to enter.