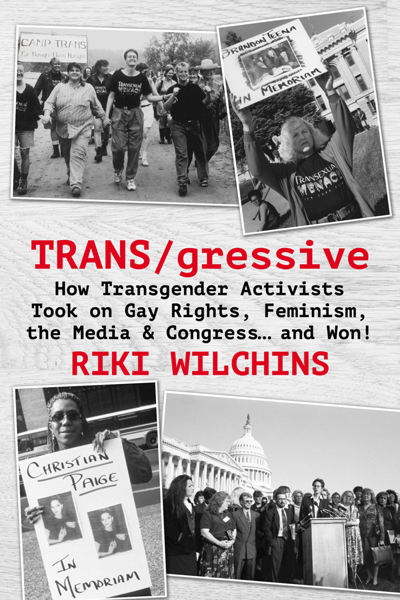 Enter to win a digital download of TRANS/gressive by Riki Wilchins from Riverdale Ave Books! To enter the contest, fill out the form below between Friday, July 7 and Friday, July 28.
"TRANS/gressive" a New Book on the History of Transgender Activism by Trans Icon Riki Wilchins
New York, NY: June 1st - Before Caitlyn Jenner became America's most famous transgender personality, Riki Wilchins was leading the fight for transgender rights. Riverdale Avenue Books, a leading LGBT publisher, is releasing a new book by Riki Wilchins documenting the history of transgender activism titled TRANS/gressive: How Transgender Activists Took on Gay Rights, Feminism, the Media & Congress...and Won! on June 1st to kick off Pride Month.
In this first person history-memoir, Riki Wilchins takes the reader through the long and winding road of trans rights from the early days of anti-trans rights in segments of the feminist movement, to the murder of transwomen such as Brandon Teena, through the fight to include trans rights amongst those of the 'Gay and Lesbian" community. Wilchins shares early photos and documents from those days of protest from the 1900's to the present.
"As America focuses more on trans rights, and becomes more aware of the impact of these gender issues, this comprehensive, in-your-face, first-person account of the trans rights movement is an important document, both for its historic record and personal story." said Lori Perkins, Publisher. "There is nothing else like it, and Riki Wilchins is the only one who could tell this tale so comprehensibly and compassionately."
"This was a story that I thought might get lost forever. When we did the things in this book – protesting, forming groups, demonstrating - they were obscure current events - even the gay press ignored us. Two decades later they've become history, but one in danger of being lost for good," explained author Riki Wilchins. "Folks today see Caitlyn and Janet and Laverne and they think it's always been this way. It hasn't. There's a backstory to all of that. There's a place it all started. This book is that story. This is how a handful of genderqueers started a gender revolution."
Downloads of this book are available at RiverdaleAveBooks.com and also at Amazon, Barnes & Nobles Nook, iTunes, Kobo and where digital and print books are sold.
About the Author
Riki Wilchins has been a leading advocate for gender rights and gender justice for 20 years, one of the founders of modern transgender political activism in the 1990s as well as one of its first theorists and chroniclers. In 1995 Riki launched TransexualMenace, the first national transgender street action group, which spread to 41 cities. The following year they launched GenderPAC,the first national political advocacy group devoted to gender identity rights. Riki was an early supporter in the launch the intersex rights movement as well as the movement for alternative sexualities They are the author of four books on gender theory and politics: Read My Lips: Sexual Subversion & the End of Gender; Queer Theory/Gender Theory; An Instant Primer; and Voice from Beyond the Sexual Binary.
Riki's writing and research on gender norms have been published in periodicals like the Village Voice, GLQ, Research on Adolescence and Social Text as well as anthologies like Contemporary Debates in the Sociology of Education, Gender Violence, Feminist Frontiers, Language Awareness, Negotiating Ethical Challenges in Youth Research, Out at Work, Women on Women and The Encyclopedia of Identity. Riki has done trainings on gender norms and nonconformity at the White House, Centers for Disease Control and Office on Women's Health. The New York Times has profiled Riki's work; in 2001 Time Magazine selected them as one of "100 Civic Innovators for the 21st Century."
About Riverdale Avenue Books
Riverdale Avenue Books is an award-winning, innovative hybrid publisher at the leading edge of the changes in the publishing industry. We publish e-books, print, and audio books under 11 imprints: Desire, an erotica/erotic romance imprint; Riverdale/Magnus the award-winning imprint of LGBT titles; Pop featuring pop culture titles; Afraid, a horror line; SFF, a science fiction fantasy line; Truth, an erotic memoir line; Dagger, a mystery thriller imprint; Sports and Gaming featuring sports and gaming titles; VerVe featuring lifestyle titles; and Hera featuring both the true and fictional lives and loves of women aged 35 and up. Started in 2012 by industry veteran Lori Perkins, Riverdale is a full-service publisher, with a foreign rights and film agency department. Visit us atwww.RiverdaleAveBooks.com.
This contest expired on Friday, Jul 28, 2017. Click here for other contests to enter.