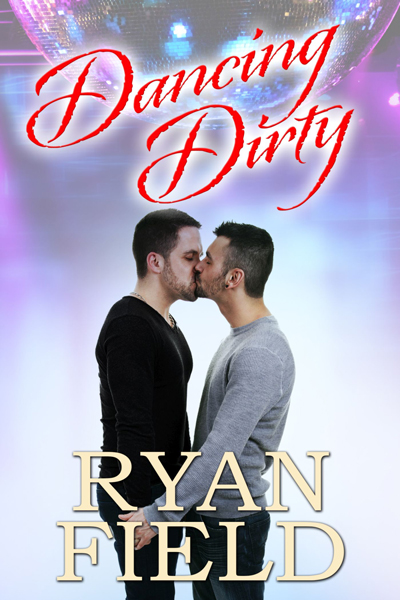 Enter to win Dancing Dirty by Ryan Field from Riverdale Ave Books! To enter the contest, fill out the form below between Tuesday, July 4 and Tuesday, July 25.
Riverdale Avenue Books Publishes Gay Retelling of "Dirty Dancing" by Ryan Field
New York, NY: May 23, 2017 - The innovative hybrid publisher, Riverdale Avenue Books is releasing Dancing Dirty by best-selling Lambda Award winning author Ryan Fields, a retelling of the classic film Dirty Dancing using gay characters.
Dancing Dirty takes place in the summer of 1978, the middle of the disco era, and dancing is one of the hottest trends. But 18-year-old Junior has never seen the inside of a gay bar or danced with another man. His mother and father think he's just shy about meeting girls and that he'll grow out of it. All Junior cares about is meeting the right man and falling in love.
But when his parents buy a summer home in an exclusive resort community in the mountains of northeastern Pennsylvania, his prospects of finding love don't look too promising. While his mother and father enjoy all the amenities of the resort, and his sister is flirting with one of the waiters, Junior mopes around watching everyone else have fun. That is until he meets a handsome young dance instructor named Carlo who changes his life in ways he'd never dreamed were possible.
From the minute Junior lays eyes on Carlo, he knows he's in love. In order to prove his love, he's willing to make personal sacrifices that no one else has ever been willing to make for Carlo.
"Dirty Dancing is a timeless classic whose themes of doing the right things no matter who you love transcend gender, "said Publisher Lori Perkins.
"I was excited to retell this tale with a gay twist," said Author Ryan Field. "I hope the readers enjoy it as much as I did when I wrote it."
Downloads of this book are available at RiverdaleAveBooks.com and at Amazon, Barnes & Nobles Nook, iTunes, Kobo and where digital and print books are sold.
About Ryan Field
Ryan Field is a Lambda-Award winning author of more than 100 LGBT works of fiction. Some of his best-known works include the bestselling Virgin Billionaire series and the short story, Down the Basement, which was included in the Lambda Award winning anthology titled Best Gay Erotica 2009. Though not always, he sometimes writes gay parodies of straight mainstream fiction/films in the same way straight fiction and Hollywood has been parodying gay men for years, without apology. Please check out his website for updates www.ryan-field.blogspot.com
About Riverdale Avenue Books
Riverdale Avenue Books is an award winning, innovative hybrid publisher at the leading edge of the changes in the publishing industry. We publish e-books, print, and audio books under 11 imprints: Desire, an erotica/erotic romance imprint; Riverdale/Magnus the award-winning imprint of LGBT titles; Pop featuring pop culture titles; Afraid, a horror line; SFF, a science fiction fantasy line; Truth, an erotic memoir line; Dagger, a mystery thriller imprint; Sports and Gaming featuring sports and gaming titles; Verve featuring lifestyle titles; and Hera featuring both the true and fictional lives and loves of women aged 35 and up. Started in 2012 by industry veteran Lori Perkins, Riverdale is a full service publisher, with a foreign rights and film agency department. Visit us at www.RiverdaleAveBooks.com.
This contest expired on Tuesday, Jul 25, 2017. Click here for other contests to enter.