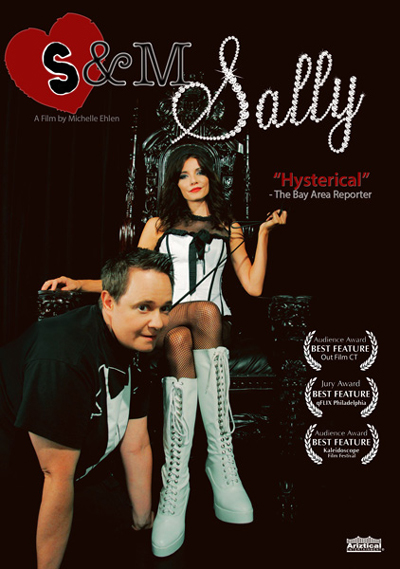 Enter to win S & M Sally from Ariztical Entertainment! To enter the contest, fill out the form below between Tuesday, April 18 and Tuesday, May 9.
A fun romp...has taken taboo and made fabu!"
- San Francisco Chronicle
Official Selection at over 70 film festivals worldwide and winner of 9 awards!
Best Feature - qFLIX Philadelphia
Audience Award - Kaleidoscope, The Little Rock LGBT Film Festival
Best Screenplay - QFilms Long Beach
Best Comedic Feature - QCinema Fort Worth
Audience Award - Sacramento International Gay & Lesbian Film Festival
Director's Award & Audience Award - Out Film CT
Special Mention - Barcelona LGTIB Film Festival
Best Song - Fetisch Film Festival Germany

"a romantic comedy that both the boys and girls can enjoy"

"does a rather miraculous job of examining BDSM with a respect that it is rarely granted in film"
-
indieWIRE


"creative and witty...the film is a fun look into how the sex life of some couples can change
throughout their relationship and how the idea of the role you play in your relationship may not
always be what you think it is"
- AfterEllen


"a laugh-fest"
- DIVA Magazine

S&M Sally
When Jamie finds out her girlfriend Jill has spent time exploring BDSM, her insecurities about falling behind in the bedroom push her to propose that they start going to underground clubs. Identifying as the butch one in a traditional butch/femme couple, Jamie assumes she will take the dominant role in their escapades, with Jill as her submissive, but Jill has ideas of her own.
Meanwhile, their friends Lola and David start dating the polyamorous bisexual Sebastian, who proposes to have a threesome. They quickly agree without planning to follow through, expecting the other one to back out first. A provocative and hilarious ride, S&M Sally details the unexpected journey that happens when your insecurities push you outside of your comfort zone, leading you down a path for which there is no going back.
DVD Pre-Book Date: March 14, 2017
DVD/Digital Street Date: April 18, 2017

DVD UPC: 631008076492
DVD Catalog Number: CQC764
DVD MSRP: $24.95
Genre: Comedy, LGBT
Country: USA
Language: English
Running Time: 80 minutes
DVD Bonus Features: Behind the Scenes, Outtakes, Dungeon Tour, Music Video "Black Lipstick Kiss"
Directed By: Michell Ehlen
Cast: Jen McPherson (Heterosexual Jill, Best Actress Laugh or Die Comedy Festival) Michelle Ehlen (Heterosexual Jill, Butch Jamie, Best Actress Outfest Film Festival) Shaela Cook, Scott Keiji Takeda, Adrian Gonzalez, Dolly Gray, Christopher Callen
This contest expired on Tuesday, May 09, 2017. Click here for other contests to enter.