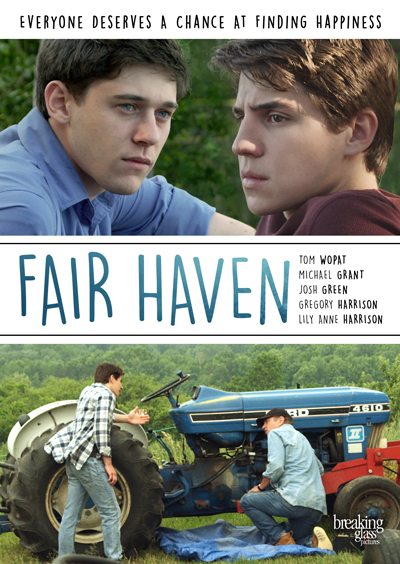 Enter to win Fair Haven DVD from Breaking Glass Pictures! To enter the contest, fill out the form below between Friday, March 31 and Friday, April 21.
"A potent, stirring new film…" – Frank J. Avella, EDGE MEDIA NETWORK
FAIR HAVEN
Best Feature Film Audience Runner-Up – MiFo LGBT Film Festival, 2016
Official Selection, Reeling Chicago International Film Festival, 2016
Director's Award – Cinema Diverse Palm Springs International Film Festival, 2016
CAST: Tom Wopat (Django Unchained, 'Dukes of Hazzard'), Michael Grant ('The Secret Life of the American Teenager'), Josh Green (Alvin and the Chipmunks: Road Chip), and Gregory Harrison ('Trapper John M.D.', It's My Party).
SYNOPSIS: After a long stay in ex-gay conversion therapy, James, a young piano prodigy, returns home to his family farm and his emotionally distant father, Richard. After Richard pressures James to give up his music career and take over the farm, James agrees as a way to make up for his past. Soon, however, James finds himself face-to-face with a former lover, Charlie, who wants to help him turn away from his new beliefs and family expectations, and follow his dreams of studying music.
FAIR HAVEN is the premiere feature film by filmmaker Kerstin Karlhuber ('Legacy Cleaning', 'Beached') that tackles the devastating impact of conversion therapy and the struggle to find love after such an ordeal.
This contest expired on Friday, Apr 21, 2017. Click here for other contests to enter.