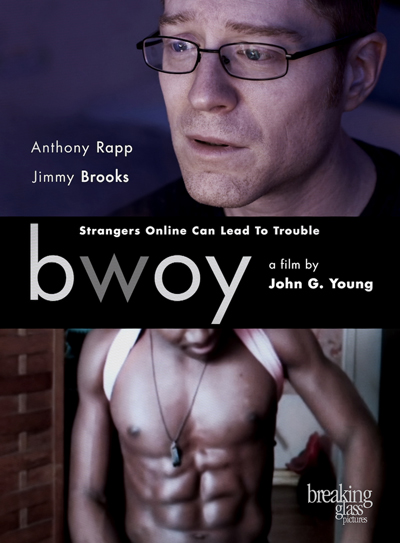 Enter to win BWOY DVD from Breaking Glass Pictures! To enter the contest, fill out the form below between Tuesday, April 4 and Tuesday, April 25.
"Beautifully written and directed…", - Amy Taubin
"A slow-burning thriller…"- The Chicago Reader
BWOY
FESTIVAL CENTERPIECE – REELING FILM FESTIVAL, 2016
Check out the trailer: BWOY Trailer
CAST: Anthony Rapp ('Star Trek: Discovery', Rent), Jimmy Brooks
SYNOPSIS: Bwoy follows Brad O'Connor, who, after the death of his son, becomes entangled in a chaotic and passionate online love affair with Yenny, a young Jamaican man (newcomer Jimmy Brooks). With both Brad and his wife Marcia seeking solace in destructive ways, their lives and relationships are pushed to the brink, culminating in tragic confrontations that no one can avoid.
DIRECTOR'S BIOGRAPHY:
The Village Voice called Young's first feature film, PARALLEL SONS "...one of the best independent films of the decade." After its premiere in the Dramatic Competition at the Sundance Film Festival, it won Best Feature awards at the Florida Film Festival, OutFest and Frameline. It screened at over 40 national and international film festivals before it was released theatrically. Young's second feature THE RECEPTION opened in 2005 to rave reviews after premiering at the Tribeca Film Festival. The L.A. Times called it "polished, worldly and witty," while Variety called the film "effortlessly cosmopolitan." The New York Times said it was "quietly ambitious and memorable." The film won a Best Actor Award at OutFest and was released theatrically. RIVERS WASH OVER ME, Young's third feature film, premiered in 2009 as Newfest's Centerpiece. The film went on to play over 30 festivals garnering a Jury Award for Best Feature from The Chicago International LGBT Film Festival, and a Best Actor Award from OutFest. It made several top 10 lists for 2009.
This contest expired on Tuesday, Apr 25, 2017. Click here for other contests to enter.