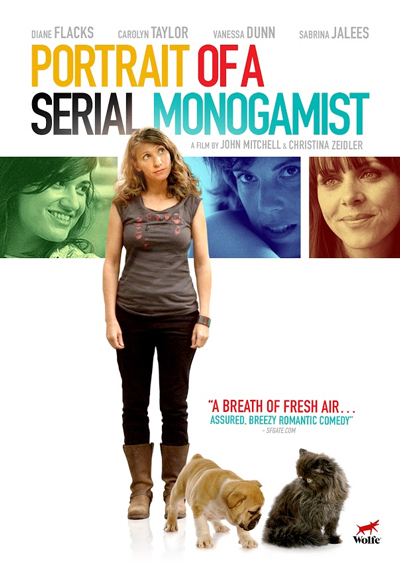 Win Portrait of a Serial Monogamist DVD from Wolfe Video! To enter the contest, fill out the form below between February 16 and March 8. The DVD's release date is February 9, 2016.
Smart, successful, and charming, Elsie is a fortysomething Toronto TV producer who is the nice Jewish girl your mother warned you about: the self-proclaimed serial monogamist who seems to have slept with everyone in town. When Elsie breaks up with her long-term girlfriend, her friends challenge her to stay single for five months. When gorgeous DJ Lolli enters her life, things get complicated as Elsie faces her mother's disapproval, conflicting advice from friends, and the nagging suspicion that she may have made a big mistake.
With biting asides and street-smart comedic timing, Emmy-nominated actress / writer Diane Flacks (Kids In The Hall) proves a sexy and magnetic leading lady, demonstrating to audiences why girls keep risking their sanity for a woman all too happy to steal kisses and break hearts. Made by and starring top performers and talents of Toronto's vibrant comedy scene, the ensemble cast also includes Vag Halen lead singer/actress Vanessa Dunn as Lolli, Carolyn Taylor (Queer as Folk) and and a scene stealing supporting role from comedian Sabrina Jalees (writer on NBC's upcoming sitcom Crowded!). Co-directors / writers Christina Zeidler and John Mitchell have created an assured and fresh comedic feature film debut.
Set in the bohemian Parkdale neighborhood in Toronto, PORTRAIT OF A SERIAL MONOGAMIST invites audiences to peek behind the curtain into a world of smart, funny and relatable queer characters, dealing with the universal complications of modern relationships.
---
"High fidelity for lesbians" - After Ellen
"An assured, breezy romantic comedy...pitch perfect" - San Francisco Chronicle
"A whip-smart comedy" - What's On BFI
"Funny and clever, will leave you laughing out loud" - The Gay UK
Wolfe Video Presents
PORTRAIT OF A SERIAL MONOGAMIST

Directed by John Mitchell & Christina Zeidler
84 min * 2015 * Color & HD * Canada
Written and Directed by: John Mitchell & Christina Zeidler
Starring: Diane Flacks, Carolyn Taylor, Vanessa Dunn, Robin Duke, Gavin Crawford, Sabrina Jalees, Elvira Kurt
Distributed by: Wolfe Video
Trailer: https://vimeo.com/144531069
More Info: https://www.wolfevideo.com/products/portrait-of-a-serial-monogamist/
RELEASE PLATFORMS:
PORTRAIT OF A SERIAL MONOGAMIST will open theatrically in Los Angeles on Friday, January 29th at the Arena Cinema. It will also open on DVD and VOD February 9th across all digital platforms including iTunes, Vimeo On Demand, and WolfeOnDemand.com, and on DVD via Wolfe Video and many major retailers.
Filmmakers:
Christina Zeidler (Co-Writer / Co-Director)
Christina Zeidler is a Toronto based film and video artist with over thirty short film and video titles in distribution, which have shown internationally at festivals and appeared on television and the web. In, 2003 Christina was named one of Toronto's 10 best Filmmakers by Cameron Bailey (artist director of TIFF) and won the Best Canadian Media Award at the 2004 Images Film Festival.
John Mitchell (Co-Writer / Co-Director)
John Mitchell is a writer and award-winning director who started his career as one half of the cult's musical comedy duo, Brock & John. Mitchell spent two years at the famed Second City in Toronto. He has written and directed several musical comedies and was one of the creators and early writers of, The Drowsy Chaperone (originating the role of "The Groom"), which went on to win 5 Tony Awards on Broadway. He is currently in post-production for his documentary, Waiting For Ishtar, a love letter to Elaine May's much-maligned comedy starring Dustin Hoffman and Warren Beatty.
ABOUT WOLFE VIDEO:
Founded in 1985 and now celebrating 30 years as the largest exclusive distributor of lesbian, gay, bi and transgender (LGBT) films, Wolfe's release slate includes some of the most popular LGBT films of 2015, including the Swiss Oscar and Golden Globes submission The Circle; the gorgeous lesbian drama by renowned Venezuelan director Fina Torres, Liz in September; and the epic international production by Finland's Mika Kaurasmäki, The Girl King. In 2016, Wolfe's releases will include the Thai Oscar submission How To Win at Checkers (Every Time); Henry Gamble's Birthday Party; Portrait of a Serial Monogamist, and Naz & Maalik. Wolfe's library of beloved modern classics includes such acclaimed hits as Cloudburst, Undertow, Desert Hearts and Big Eden. Wolfe's complete motion picture library can be found at WolfeVideo.com as well as at national retailers such as Netflix, Amazon and VOD destinations such as Comcast, Time Warner, Hulu, iTunes and WolfeOnDemand.com. Find more info online at http://www.wolfevideo.com.
Portrait of a Serial Monogamist Final Trailer from Wolfe Video on Vimeo.
This contest expired on Tuesday, Mar 08, 2016. Click here for other contests to enter.