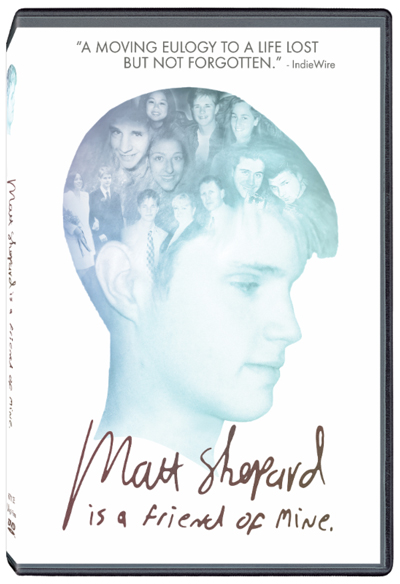 Win Matt Shepard is a Friend of Mine! To enter the contest, fill out the form below between January 8 and January 29.

Matthew Shepard (December 1, 1976 - October 12, 1998)
MATT SHEPARD IS A FRIEND OF MINE
The Personal Story of a Young Man's Life
Now Available on DVD, Digital HD and Netflix
Following Acclaimed Theatrical Run
"A tender reconstruction of personal loss." - The New York Times
"Long-in-coming doc offers an intensely personal look behind the headlines." -
Hollywood Reporter
"Matt Shepard is a Friend of Mine is a moving eulogy to a life lost but not forgotten." - Indiewire
"Matt Shepard Is A Friend Of Mine is a great documentary...This film doesn't just revisit an atrocity, it moves through it, and finds meaning in it." - RogerEbert.com
Los Angeles, CA - Education Pictures and Virgil Entertainment are honored to continue Matt's legacy with the acclaimed documentary Matt Shepard is a Friend of Mine. After over a year on the international festival circuit, taking home 10 Best Documentary and Audience Choice Awards, as well as a unanimously acclaimed theatrical run earlier this year in the US and Canada, the film is available now to purchase on DVD (SRP $19.99) and to rent or own on all digital platforms. The film was recently added to Netflix for rental.
Matt Shepard is a Friend of Mine, Michele Josue's debut and the first film helmed by someone from Matt's life, is an intimate tribute to the young man she knew, the young man behind the story that rocked the nation and caused outcry around the world in 1998. Josue's journey took her across the United States, Switzerland and Morocco and the heartfelt result has screened at over two dozen festivals worldwide.
"Michele was one of Matt's most cherished friends, as are others whom she spent years interviewing, sharing how Matt changed them and how they changed themselves in the wake of his passing. Her film will forever stand as a unique view into our son's heart and his hopes. We are profoundly grateful that others will be able to share in its message."
-Judy Shepard
On October 7, 1998, University of Wyoming student Matthew Shepard was brutally beaten, tied to a fence and left to die because he was gay. Years later, Michele Josue, a close friend of Matt's, revisits the shocking case with never-before-seen photos, rare video footage, as Matt's all-too-brief life is remembered through the vivid testimonies of those whose lives he touched, from the friends and family who knew him best to the bartender who saw him on the night of the attack.



Director Michele Josue and Matt Shepard in 1995
New revelations emerge in one of the most notorious hate crimes in US history, leading to a searing, poignant, and multi-layered biographical and sociological portrait. In the end, the notion of forgiveness--embodied in the moving and courageous final act of Matt's parents--takes on truly heroic proportions.
This contest expired on Friday, Jan 29, 2016. Click here for other contests to enter.