Compton's Table Hosts Book Fair with Werner Books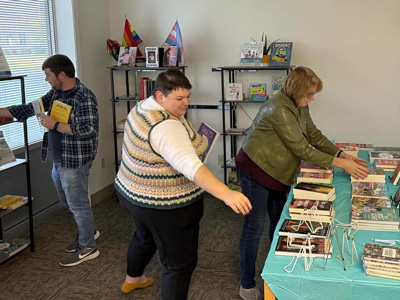 On October 19-21, Compton's Table held a book fair at their studio in collaboration with local bookshop Werner Books. The owners and staff at Werner Books curated a thoughtful selection of titles centering queer voices and experiences, including many books that have been challenged or banned from schools and public libraries. The event also included a special family-friendly story hour featuring local drag artist Alysin Wonderland.
Community members turned out in strong numbers over the three-day event, resulting in a successful sale, the proceeds from which will go toward establishing Compton's Table's own queer-centered lending library. "We know from this past Pride month that access to books by and for queer folks is not guaranteed in schools and libraries," said Compton's Table board secretary Christina Salvia. "This lending library will be our way of ensuring that members of our community have a chance to feel represented in the books they read."
Both Compton's Table and Werner Books expressed gratitude for the generous community response, marking their first collaboration as a resounding celebration of diversity and free expression. Compton's Table looks to open its lending library in the coming months.