Community Spotlight #12 - Ashtabula Pride, Inc.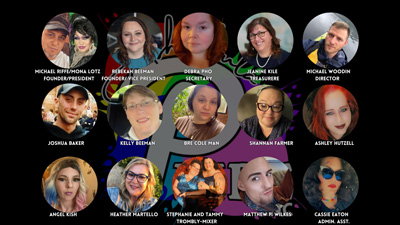 Ashtabula Pride Inc. was founded in July 2023 by Michael S. Riffe (Mona Lotz drag performer) of Ashtabula, OH, and Rebekah Beeman of Conneaut, OH. Before becoming a nonprofit corporation of its own, Ashtabula Pride was formerly known as Pride Ashtabula County, which was Ashtabula County's pride festival under the LGBTQ+ Coalition of Ashtabula County, Inc. Riffe, along with Bill Daywalt, AJ Petro, and John Werner brought the county's first festival in 2021 which welcomed over 3,000 attendees to the festival. Due to the amount of work and planning involved, the Coalition's board decided it would be best to relinquish the festival's ownership and turn it over to Riffe and Beeman to create a new and self-sustainable organization. The two formed a board of directors and an advisory board and began planning the first annual Drag in the New Year, which will be held Dec 31, 2023, at the Conneaut Human Resource Center in Conneaut, OH. The event will include dinner provided by Wade's Pastabilities, raffles, a cash bar, a DJ with Dancing, and a drag show hosted by Mona Lotz. The festival will be held on the 3rd Saturday in June from 11 am-9 pm on Bridge Street in the historic Ashtabula Harbor with vendors, food, and entertainment. To get tickets for New Year's Eve or to become a part of the festival, see the organization's website www.ashtabulapride.org.
Facebook: Ashtabula Pride, Inc.