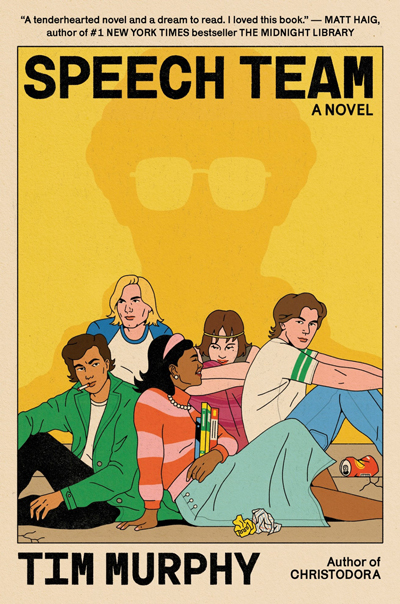 Enter to win Speech Team by Tim Murphy. To enter the contest, fill out the form below between Friday, November 10, and Friday, December 1.
SPEECH TEAM (Viking; 7/25/23) is the dazzling new novel from Tim Murphy. In this poignant, acerbic, Breakfast Club-meets-The Big Chill tale, a group of miaddle-aged speech team veterans-once precocious Gen X teens, now 21st-century fortysomethings--are drawn back together to confront their former teacher.
Late one morning, parked in a desk chair at his humdrum job, failed writer Tip Murray finds himself reading the suicide note of a long-lost high school classmate Pete Stroman. He is surprised to see his old speech team coach, Gary Gold, mentioned--Pete says Mr. Gold made a disparaging comment about his developmental disability, something he carried with him until his death. As more thorny memories from their adolescence surface, Tip and his best friend, fellow speech team alum Natalie Farb-Miola, decide to reconnect with their other teammates. They discover an unsettling thread: all were quietly wounded by Mr. Gold's cutting remarks. He said something to each of them that hurt them deeply, reverberating into adulthood--a collection of wounds that demand a reckoning.
When this crew of former misfits--recovering alcoholic Tip, struggling hippie- farmer Nat, imperious fashion designer Anthony, and tightly-wound professor Jennifer-- discover that Gary Gold is still alive, seemingly enjoying a blissful retirement in Florida, there's only one thing to do: confront him. What follows is a witty and propulsive tale about how we grow up and who we become, and what happens when something sends us sliding back to those insecure teenage years.
With deft humor and tenderness, Murphy approaches a contemporary problem that feels universal: How do we--or don't we--get past the internalized messages of our youth? And what if we had the chance to face up to those who wronged us?
At turns heartbreaking, funny, and incisive--and shot through with '80s nostalgia-- SPEECH TEAM is an expertly crafted story on the beauty of not belonging, the traumas (big and small) that can suffuse a life, and how hard it is to truly leave the past behind.
Tim Murphy is also the author of The Caftan Chronicles, which features each month a long, in-depth interview with a a notable older gay man who has contributed to culture and society."
This contest expired on Friday, Dec 01, 2023. Click here for other contests to enter.